Alamitos Bay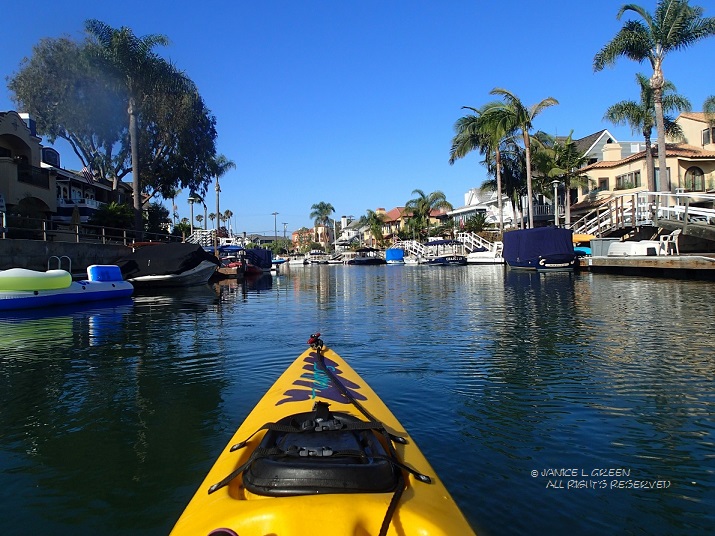 "A shark advisory i contact Lifeguard HQ: 562-570-1360 for additional information or stay tuned for updates," the Long Beach Fire Department tweeted recently,
You can rent kayaks or paddle your own, and explore the scenic waters of A
lamitos Bay in Belmont Shores. Depending on your physical capability, you can paddle around the entire bay, marinaa and through the canals surrounding Naples Island.
The wind is usually calm in the morning, and begins to pick up around 10:00. The beaches are plentiful with restroom facilities.
The Alamitos Bay encompasses 258.25 acres and includes Los Cerritos Channel (24.31 acres), Naples Canals (7 acres), the entrance channel (31.43 acres), and Basins 1,2,3,4,6 and 7 Marinas 6 (30.3 acres).

Average
Temp
Jan
Feb
Mar
Apr
May
Jun
Jul
Aug
Sep
Oct
Nov
Dec
High
68
68
69
73
74
78
83
85
83
79
73
69
Low
44
48
50
53
58
61
65
66
64
58
50
45
There are a few hot spots throughout Alamitos Bay which salt-water bass, perch, and a few other species of fish are taken. Beginning in the Fall halibut fishing in the harbor areas of Southern California picks up as the fish move into the shallow harbors to spawn.
The Long Beach Marina and Alamitos Bay are open daily all year, twenty-four hours a day, with running lights at night. The Marine Stadium closes at 8:00 a.m. to paddlers.
Alamitos Bay is a popular watersport dstination on the weekends so get there early to find a free parking spot. Naples launch access located at 5436 East Ocean Boulevard, in Long Beach, has both free and metered parking. They ticket expired meters so bring plenty of quarters. Restroom facilities and water to rinse off your kayak iis available.