Camp Far West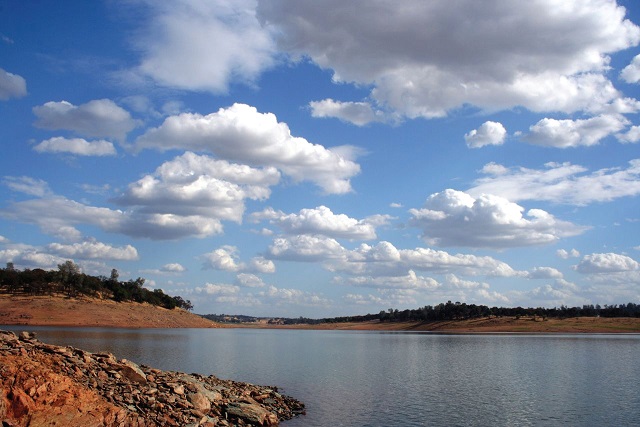 Photo Credit Bart Boryczko
Camp Far West Reservoir Canoe, Kayak, SUP & Kayak Fishing Information
Camp Far West is located at the junction of Placer, Nevada and Yuba c
ounties. This mid-size lake is situated at an elevation of 280 feet. It has 2,000 surface acres and 18 miles of shoreline at full water level capacity. A series of low grass-covered hills dotted with sparse stands of oak and chaparral surrounds Camp far West.
Photo Credit Bart Boryczko
The lake offers many aquatic recreational opportunities and is a popular power-boating, jet and waterskiing destination for local boating enthusiasts. Even with the boat congestion, paddling here can still be enjoyed, providing you paddle within 200' feet of the shore, which has a 5 m.p.h. boat speed limit for all watercraft.
Camp Far West is a premier bass fishing destination and it also holds a healthy population of crappie and catfish. The lake is loaded with bass in the abundance of coves on the lake's two eastern arms, which are also, away from the fast-moving watercraft on the main body water.
Average
Temp
Jan
Feb
Mar
Apr
May
Jun
Jul
Aug
Sep
Oct
Nov
Dec
High
65
62
67
74
83
91
96
95
90
80
65
65
Low
38
42
45
48
54
59
61
60
57
50
43
37
Open: The boat speed limit is 5 m.p.h. 200' feet from any shore. South Shore is open May to September from 9:00 a.m. to 9:00 p.m. North Shore is open year-round October to March from 7:00 a.m. to 7:00 p.m. and from April to September 9:00 a.m. to 9:00 p.m.
Fees: There is a fee for day use (which includes the launch fee), for camping and pets.
Lak
e Facilities: The lake's facilities include two boat launches, boat rentals, groceries, power boating, windsurfing, sailing, fishing, swimming, jet and waterskiing, hiking, bicycling and horseback riding trails. Other facilities include picnic tables, barbeques and full hook-ups along with a lot of open-area campsites.