Channel Island Harbor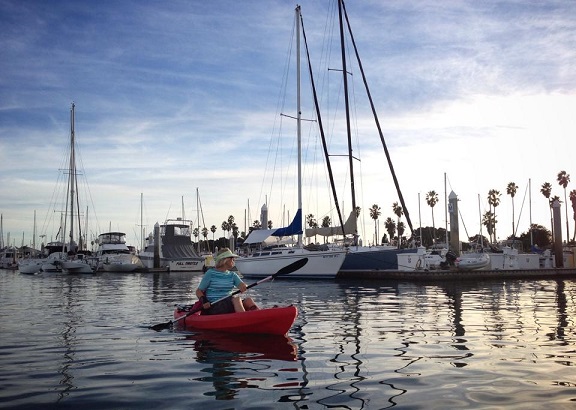 Photo Credit Margie Newby Carter
Channel Island Harbor Canoe, Kayak, SUP & Kayak Fishing Information
Relax along the waterfront, dock in its harbor, or take a voyage of exploration to the remarkable islands and ma
rine sanctuary. The Channel Islands Harbor is on the California coast between Port Hueneme and Ventura. It has approximately 2,150 boat slips, marina facilities, restaurants, sport fishing facilities and businesses.
Channel Islands Harbor is located just .4 miles from Channel Islands Beach, in Ventura County, Channel Islands Harbor has nine full-service Marinas providing berths for 2,150 boats. It also hosts the Ventura County Maritime Museum.
The Ultimate Paddlers Guide to 264 Extraordinary Flat Water Destinations in California. BUY HERE

Kayaking California's Flat Waters is the most beautiful and informative resource available for California paddling enthusiasts.
Whether you're fly fishing, bait casting or spinning your chances of getting a bite here are good. Fish taken here include Salmon, Chinook, Lingcod, Tuna, Halibut, Great Sea Bass, White Rockfish, Yellowtail Perch and Sand Yellowtail.
Average
Temp
Jan
Feb
Mar
Apr
May
Jun
Jul
Aug
Sep
Oct
Nov
Dec
High
68
69
70
74
75
78
81
82
81
78
73
69
Low
41
42
43
46
49
53
56
57
55
50
44
41
Open: Open all year, seven days a week, 24 hours a day with running lights at night.
Fees: There is a fee for parking and to launch.
Harbor Facilities: The harbor facilities include a launch ramp, sailing, fishing, power boating, a swimming area and beach, shore fishing access, picnic area , restrooms, and boat rentals. The harbor features a few beach-lined parks and coastline for picnics and surfing, as well as nearby biking and walking paths. The harbor is divided into three areas (west, east and peninsula) served by separate public roads, with each area providing different services.
The west side consists of marinas, a linear park, restaurants, residential development and retail businesses. The peninsula is dominated by hotel development, marinas, ap
artments and condominiums. The east side is primarily commercial and serves boaters by offering boat yards, a marine supply store, boat sales, law enforcement, administration and search and rescue facilities.