Clear Lake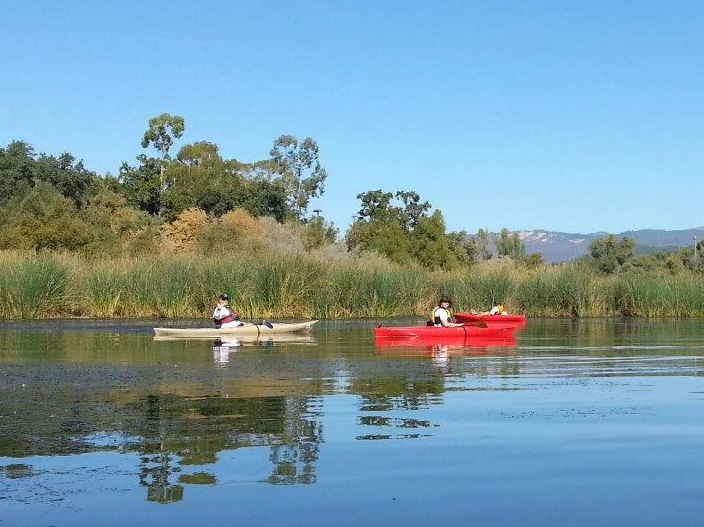 Photo Credit Marty Meading
Clear Lake Canoe, Kayak, SUP & Kayak Fishing Information
Area Map #139 Miles of Shoreline: 100 Lake Surface Acres: 43,000 Elevation: 1326' Address: 5300 Soda Bay Road Kelseyville, CA 95451 Ph:707-279-2267
Paddle Notes: Clear Lake is truly a paddlers paradise with lakeside camping surrounded by pine forests and miles of shoreline to explore. With more than 43,000 surface acres and 100 miles of shoreline, Clear Lake is the largest natural freshwater lake that lies completely within the borders of California.
Swimming, boating, kayaking and
other water sports are extremely popular at Clear Lake, but there's ample room for kayaking, fishing, swimming, sailing, waterskiing, wakeboarding and other water sports.
Photo Credit Marty Meading
Clear Lake is open to all types of boating and offers a wide range of recreational activities such as fishing, swimming, hiking, bicycling and windsurfing. Whatever your preference, an abundance of recreational activities will be right at your fingertips.
If you paddle in the early morn, you can observe wildlife feeding along the shore, in a diverse and beautiful setting. Bird lovers and kayak photographers will feast their eyes on the wide variety of bird species including ducks, pelicans, blue herons, green herons, osprey, grebes, egrets, cormorants, valley quail, mourning doves, horned owls,
There are ten free boat launches located at: Lake side County Park, Lake Shore Drive, Crystal Lake Way, Lakeshore Drive, Lucerne Harbor County Park, Clear Lake Avenue, and First Street, Third Street and Fifth Street ramps. Contact the Clear Lake Chamber of Commerce for complete information on the hordes of other resorts, campgrounds and marinas in the area.
Water Trail 1: Rattlesnake Island - 4 mile loop
Water Trail 2: Tule Maze at Anderson Marsh - 6 mile loop
Water Trail 3: Cache Creek Dam - 10 miles round trip
Water Trail 4: Island Hopping in the Narrows- 8 mile loop
Water Trail 5: Volcanic Vents of Soda Bay - 6-9 miles round trip
Water Trail 6: Wetlands of Long Tule Point - 8-10 miles round trip
Water Trail 7: Rodman Slough - 8 miles round trip
Kayak Fishing: Clear Lake is a premier fishing destination for giant-size bass. it is known as the "Bass Capital of th
e West," The lake's record for largemouth bass is 17.52 pounds. Other species of fish caught at Clear Lake include catfish, crappie, bluegill and carp, but two-thirds of the fish caught in the lake are largemouth bass. Clear Lake produces more catfish than any other lakes located in California. Clear Lake is home to numerous fishing tournaments each year.
Photo Credit Marty Meading