Copco Lake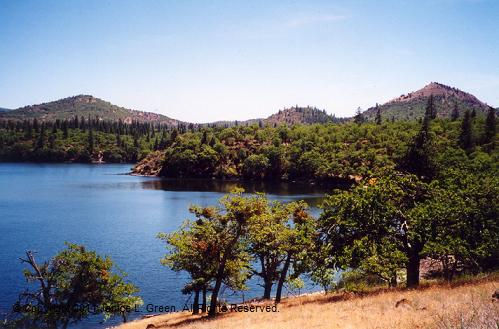 Copco Lake Kayak, Canoe, SUP & Kayak Fishing Information
Area Map #210 Miles of Shoreline: 11 Lake Surface Acres: 1000 Elevation: 2613' Copco Road Montague, CA 96064 Ph: 530 842-3521
Paddle Notes: 8-6-2014 FIRE AT COPCO LAKE Copco Lake lies in a mountainous country of northern California's Shasta Cascade region. It is inviting for those who are looking for a place to paddle in a remote area with primitive camping.
Copco Lake offers excellent paddling opportunities and wildlife viewing. As you paddle, watch for a variety of wildlife. Black-tailed deer, squirrels,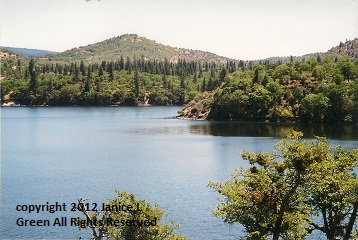 raccoons, porcupines, beavers, otters, muskrats and turtles are some of the animals that call the area home.
Coyotes can still be sighted and, rarely, you might see a bear or mountain lion. Birdwatchers will find Canadian geese, white pelicans, ducks, owls, quail, woodpeckers, hummingbirds, hawks, wild turkeys and eagles.
There are several fantastic places to explore around the lake that provide private retreats. The lake is primarily used by fishermen due to the 10 m.p.h. boat speed limit.
Copco Lake is a mid-size lake with approximately eleven miles of shoreline. It is located about seven miles above Iron Gate Reservoir on the Klammath River. Copco Road, the northern lake access road turns into a rough, pitted, narrow and winding dirt road unsuitable for motor homes and vehicles pulling trailers, once you past Iron Gate Reservoir. Use caution driving on Copco Road after a recent rain. I recommend using the Ager Beswick Road to reach the Mallard campground and boat launch.
Copco Lake is located about 30 miles northeast of Yreka, California just south of the Oregon border. It is a manmade lake formed in 1917 upon the completion of the Copco Dam on the Klamath River. It has a surface area of 1000 acres.
Kayak Fishing: The fish at Copco Lake may not be large but there are an abundance of them. Copco Lake generally has largemouth bass in the 1 to 3 pound range, but the lake also hosts trout, catfish and hordes of perch in the 5 to 7 inch range and the trout in the 1 to 6 pound range. Kayak fishing is excellent for trout and perch. There are also thriving populations of bass and catfish.
Wind & Weather Conditions: At full water level capacity, there are a limited number of pullout access locations, which purposes a slight problem if you get caught in the sudden erratic gusty wind conditions that frequently occur. From October to May there are white water conditions from the spring melt-off and heavy rains at the entrance of the Klammath River, which flows into Copco Lake. It can get extremely hot at this desolate lake with the average daytime high air temperatures in the high 80s and low 90s during the summertime. The spring and fall daytime high air temperatures range in the 60s and 70s and the 40s to 50s in the wintertime.The drought in California has effected Copco Lake's water level which is low, but there is still plenty of water to kayak as of July 2015. Call before departing for current water level conditions.
Average
Temp
Jan
Feb
Mar
Apr
May
Jun
Jul
Aug
Sep
Oct
Nov
Dec
High
45
51
57
64
73
82
90
90
82
70
53
45
Low
23
24
29
33
39
46
51
50
44
35
28
24