French Meadows Reservoir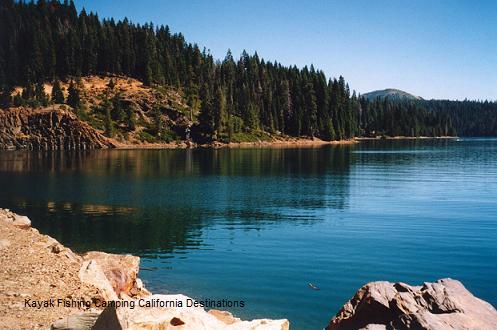 French Meadows Reservoir Kayak, Canoe, SUP & Kayak Fishing Information
An outstanding paddling adventure awaits you at French Meadows Reservoir. It is
everything you could ask for in a paddling destination, that is if you don't mind a long, winding but scenic drive through densely forested mountains to get there. The lake is rarely busy, even in summer. The long slow drive and winding access road discourages large boat owners.
The reservoir's awe inspiring beauty and peaceful atmosphere are well worth the drive. The reservoir hosts a varied assortment of outdoor activities which can be enjoyed by the entire family.
Some of the recreational activities at French Meadows Reservoir consist of kayaking, power boating, canoeing, fishing and swimming. The lake is open to all watercraft, but speedboats and water and jet skiing are not advised due to submerged hazards. Boat ramps on both south and north shores.
French Meadows Reservoir is known for its quality brown trout fishing but the reservoir also has an abundance of rainbow trout and a healthy population of cutthroat trout. 20,000 rainbow trout in the 12' range and 2,000 brown trout catchables are planted annually, with a few large resident big browns are lurking about.
Average
Temp
Jan
Feb
Mar
Apr
Jay
Jun
Jul
Aug
Sep
Oct
Nov
Dec
High
52
55
57
63
72
81
89
89
89
73
59
52
Low
33
36
36
40
47
54
60
60
55
48
39
35
Open: The reservoir is open daily from mid-May to mid-October for boating. There isn't any boat speed limit.
Fees: There is no day use, launch or pet fee, but there is a fee to camp.
Reservoir Facilities: A boat ramp is located within the campground. The North Fork Am
erican River can be accessed nearby and provides additional opportunities for fishing and swimming.There are two boat launches, vault and flush toilets, water, boating, fishing, sailing, windsurfing, walking and bicycling trails. Pets are allowed on a leash. Jet and waterskiing are not recommended due to water hazards. A few campsites are available on a first-come, first-served basis.