Goose Lake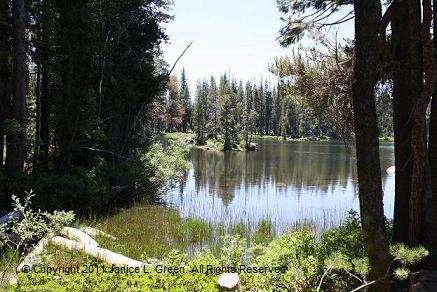 Goose Lake Kayak, Canoe, SUP & Kayak Fishing Information
Tall pines hover majestically above the shoreline on this beautiful alpine lake which provides a spellbinding paddle in a tranquil atmosphere. Goose Lake is located in a wilderness setting in the Northern Sierra Nevada Mountains about eight miles from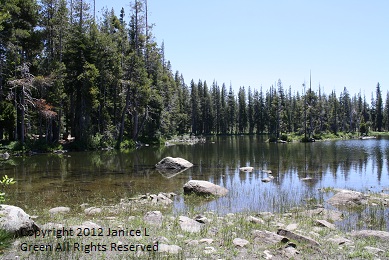 the town of Graeagle at 6300' feet elevation. It is the second largest lake in the Lakes Basin Area. A few underdeveloped tent campsites are within steps from the shore, which allows you to easily hand launch your boat from your campsite area.
This area provides a multitude of recreational activities including camping, fishing, boating, hunting, mountain biking, horseback riding, picnicking, hiking, backpacking, swimming, and windsurfing.. Windsurfing enthusiasts enjoy the gusty wind conditions that commonly occur at Goose Lake.
Birds and other wildlife can be abundant as you explore from your canoe or kayak. During the fall and spring. Keep a look out for ducks, geese and other migratory birds make their way to Goose Lake to feed before continuing on their migratory journey. For the best birding opportunities paddle early or late in the day. Paddling allows an intimate look at white pelicans and smaller birds such as warblers and flycatchers.
There are only a few rainbow and eastern brook trout present at Goose Lake. The best fishing is in the month of June as soon as the lake's water surface has melted, but even then don't be surprised if you get skunked.
Average
Temp
Jan
Feb
Mar
Apr
May
Jun
Jul
Aug
Sep
Oct
Nov
Dec
High
48
59
54
60
69
78
85
85
80
69
54
48
Low
29
30
32
35
41
47
53
52
48
41
33
29
Open: The lake and campground are open from the beginning of June to the end of October. Motorized boats are not permitted on Goose Lake. Parking space is limited to only a handful of vehicles.
Fees: There aren't any fees to camp or to launch, for day use or for pets.
Lake
Facilities: Facilities: The facilities consist of windsurfing, small sailboats, hiking trails, no boat launch or water. Power boating, jet and waterskiing are not permitted. Pets are allowed on a leash.