Grant Lake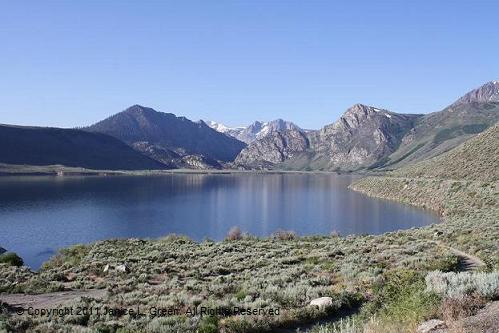 Grant Lake Kayak, Canoe, SUP & Kayak Fishing Information
Situated just off the northern entrance to the June Lake Loop, lies Grant Lake. Grant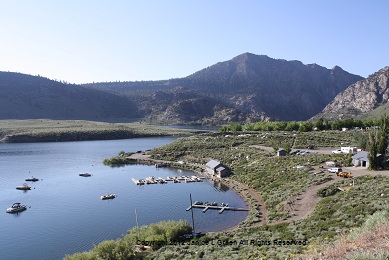 Lake, the largest lake in the June Lake Loop, has an entirely different topography than the other three lakes located along Highway 158 have. The landscape changes dramatically between the northern and southern ends of the lake. There's a striking difference between the two.
Grant Lake has a minimal amount of boat traffic and is often deserted, unless there is a fishing contest. After 10:00 a.m., fast-moving watercraft are permitted, and recreational water sports such as waterskiing and jet-skiing may be enjoyed. The lake boasts abundant fishing, camping, waterskiing and wake boarding. Your paddle outing to Grant Lake will provide a delightful summer paddling retreat, as well as a premier kayak fishing destination.
Grant Lake is planted yearly with 60,000 10 to 12 inch rainbow trout, and 7,0000 brown trout yearly by the Department of Fish and Game and alper's Ranch hatcheries. There are also a few brook and cutthroat trout.
Long known as the "home of the German Brown," Grant Lake has trout fishing a plenty. Fish from shore, or launch your boat from the lake Marina. On Grant, the best fishing takes place before 10:00 a.m, as the lake maintains as strict speed limit of 10 m.p.h.. After 10:00 a.m., faster crafts arrive.
Average
Temp
Jan
Feb
Mar
Apr
May
Jun
Jul
Aug
Sep
Oct
Nov
Dec
High
4o
44
50
58
66
75
83
82
75
65
53
42
Low
19
22
26
31
39
47
53
51
44
35
27
20
Open: Grant Lake is open daily for kayaking the last weekend in April to October 31st, one-half hour before sunrise to sunset. There is a 5 m.p.h. boat speed limit until 10:00 a.m. After 10:00 a.m. there is an open boat speed limit. each day, to accommodate the early morning anglers.
Fees: Grant Lake has a day use, launch, camping and pet fees.
L
ake Facilities: There is a grocery store, marina, boat rentals, a boat launch, power boating, hiking trails, jet and waterskiing, fishing, windsurfing and sailing. Swimming is not allowed. Services are available in the communities of June Lake and Lee Vining, each of which is less than ten miles away. Grant Lake Marina Ph:760 648-7964 Highway 158, Grant Lake Road June Lake, CA 93529