Haven Lake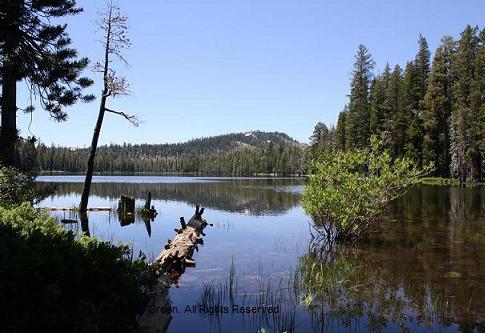 Haven Lake Kayak, Canoe, SUP & Kayak Fishing Information
At the first light of day, when the sun casts picture-perfect reflections onto the water's surface, is the ideal time to paddle Haven Lake. There's no better way to ease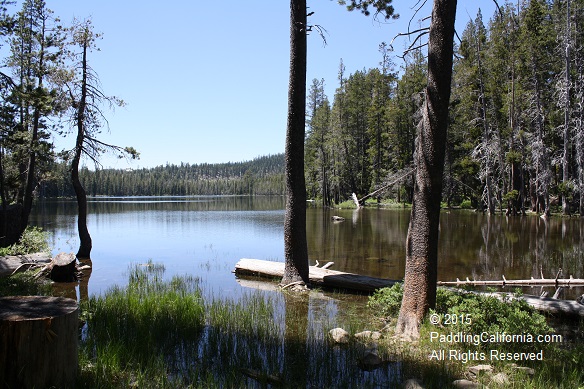 your inner turmoil than to paddle this beautiful haven at dawn. The peaceful atmosphere provides a soul-stirring paddle amidst a dense pine and conifer forest. Haven Lake is one of a series of small lakes located in the Lakes Basin Area that offers a pleasant interlude and spellbinding scenery. A thick canopy of trees hugs the shoreline which provides a cool retreat and shady campsite settings.
The limited number of campsites boasts great lake views but the primitive campsites and vault toilets were not well maintained when I was here. Haven Lake is an easy paddle ideal for novice paddlers. It is often overlooked by visitors due to its small size, unmarked location, and tiny parking lot. Picnicking spots are plentiful, but there are only five primitive tent sites available on a first-come, first-served basis. Wildlife lovers can often catch a glimpse of deer, foxes, rabbits, bear, raccoons and various species of birds. Haven Lake is another destination if you didn't know it existed, most likely you'd drive right by and never know you did. The lake is almost completely hidden from view from Gold Lakes Road. You're not likely to encounter anyone else here either, including fishermen, because Haven Lake is only stocked with 1000 fingerling brook trout by the Department of Fish and Game per year.
Average
Temp
Jan
Feb
Mar
Apr
May
Jun
Jul
Aug
Sep
Oct
Nov
Dec
High
48
54
54
60
69
78
85
85
80
69
54
48
Low
29
30
32
35
41
47
53
52
48
41
33
29
Open: Haven Lake is open June to October depending on early or late snowfall. Motorized boats are not permitted.
Fees: There are no day use or launch fees but there is a fee to camp.
Lake Facilities: There are five primitive tent sites with vault toilets, but no water or boat launch. Fishing, windsurfing, kayaking, canoeing, SUP boarding and hiking are allowed.