Huntington Harbor
Huntington Harbor Kayak, Canoe, SUP & Kayak Fishing Information
Area Map #28 Miles of Shoreline: 10 Harbor Surface Acres: N/A Elevation: 0' Address: Sunset Way East Huntington Beach, CA 92648 Ph:714 536-1454
Paddle Notes: Huntington Harbor is located a few miles north of Newport Bay. Huntington Harbor and Newport Bay are similar to one another. Both locations have waterways that meander in and out along waterfront homes and both have marinas filled with an array of beautiful boats. Huntington Harbor also has two marsh-like areas.
The Natural Wildlife Refuge located on the northern side is on U.S. Naval property.
Unfortunately, it is a restricted area and all boating is prohibited. On the southern side just past Warner Avenue is the Ecological Reserve. It is the largest coastal salt marsh in Los Angeles and Orange County. It is also closed to all boating, though free bird watching walking tours are given on the first Saturday of the month between 9:00 a.m. and 10:30 a.m. The beach is open from 6:00 a.m. to 10:00 p.m.
Kayaking allows you to launch from any small beach but the favorite launch accesses are in Sunset Beach on the channel side (east side) of Pacific Coast Highway between Warner Avenue and Coral Cay Lane or on the small Mother's Beach at Humboldt Island. Novice kayakers new to the sport will do well to take a few lessons for paddling and capsize rescue. Many kayak retail stores not only sell the equipment, but also offer kayak lessons and rentals on an hourly basis.
Kayak Fishing: There are an abundance of arms throughout Huntington Harbor which inhabit halibut, bass and a number of other species of fish. Beginning in the Fall halibut fishing in the harbor areas of Southern California picks up as the fish move into the shallow harbors to spawn. Numerous kayak anglers target the spawning fish using live bait rigs and circle hooks.
Wind & Weather Conditions: The pleasant coastal climate averages in the high 70s during the summer months and the mid-60s in the spring and fall. Coastal fog can sometimes put a damper on your day in the area. During the summer the temperature is in the 60's and cool during winter when temperatures tend to be in the 50's. The warmest month of the year is August with an average maximum temperature of 84 degree. The coldest month of the year is January with an average minimum temperature of 47 degrees. The wettest month of the year is January with an average rainfall of 3 Inches.
Average
Temp
Jan
Feb
Mar
Apr
May
Jun
Jul
Aug
Sep
Oct
Nov
Dec
High
69
70
71
74
75
79
83
84
83
80
74
70
Low
47
48
50
52
56
60
63
64
63
58
51
46
Terrain: Huntington Harbor borders the famous Sunset Beach. It is a heavily populated residential community and a popular tourist spot, especially during the summer months. Beautiful sandy beaches, boats and homes border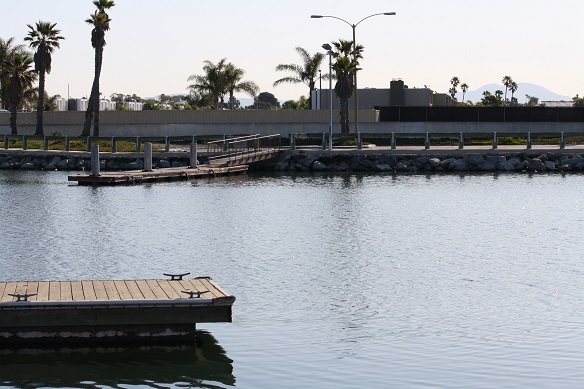 this harbor. Kayaking around Huntington Harbor's five manmade islands is a popular activity in the mild waters that include five manmade islands--Admiralty, Davenport, Gilbert, Humboldt and Trinidad.
Open: Huntington Harbor is open daily for boating, twenty-four hours a day, year-round with running lights at nights. The entire harbor has a 5 m.p.h. boat speed limit.
Fees: There is a boat launch at the end of Edinger Avenue located at the Sunset Aquatic Regional Park, (2901-A Edinger Avenue). The gate is open twenty-four hours with an automated self-pay machine at night. Be sure to bring one dollar bills for the machine for parking. There is no launch fee. Also, there is free and metered parking on the streets and in the parking lots off of Warner Avenue and Pacific Coast Highway 1.