Ice House Reservoir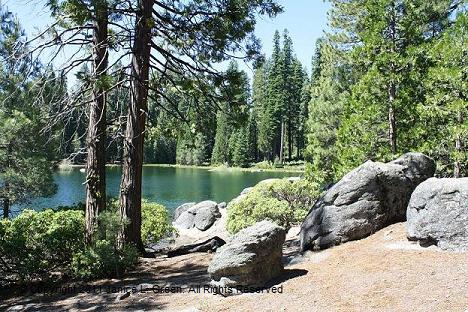 Ice House Reservoir Kayak, Canoe, SUP & Kayak Fishing Information
Ice House Reservoir spans 700 acres and rests at 5,500 feet elevation. A gorgeous conifer forest surrounds this magnificent clear-blue water reservoir. There are a han
dful of beautiful lakes and reservoirs within close proximately to each other in this area, which makes it an ideal paddling destination.
In addition to excellent paddling opportunities for all levels of paddlers, there is a wide range of other outdoor recreational activities to enjoy at Ice House Reservoir. The variety of recreational entertainment found at the reservoir also makes it a popular summer vacation destination. After a leisurely paddle, take a hike or bike on the Ice House Mountain Bike Trail, which stretches for 3.1 miles.
Enjoy swimming, fishing and boating on Ice House Reservoir. A mountain bike triail stretches for 3.1 miles along ridge tops and shaded northern slopes. The trail boasts views of the reservoir and the Crystal Range.
Fishing on Ice House Reservoir is a must as the reservoir is home to an abundance of trout. Kayak angling enthusiasts will find many out of the way coves and miles of shoreline to fish for a trophy class brown trout and also rainbow trout and kokanee salmon. The reservoir is planted annually with 14,500 rainbow trout, along with 6,000 brook and 3,000 brown trout in the 10 to 12 inch class.
During the late fall, winter and early spring are the best months of the year to fish for brown trout or during the summer troll for rainbow trout in deeper waters. In fall and winter lures near the surface work well, but in summer and as spring warms up, troll deeper using down riggers.
Average
Temp
Jan
Feb
Mar
Apr
May
Jun
Jul
Aug
Sep
Oct
Nov
Dec
High
53
56
59
65
73
81
88
88
83
73
59
53
Low
35
35
39
40
40
53
60
59
55
48
39
25
Open: The campgrounds are open from May 15th to October 15th. Boating is allowed seven days a week, depending on road closures due to early or late snowfall.
Fees: There is a fee to camp, but no launch fee.
Lake Facilities: The facilities consist of a boat launch, hiking and bicycling trails, sailing, fishing, power boating, jet and waterskiing, windsurfing and swimming. Amenities include a picnic ar
ea, drinking water faucets, vault toilets and a dump station. Firewood is sold on-site and a nearby resort offers a restaurant, gas and limited groceries. A boat ramp is located on-site.