Indian Valley Reservoir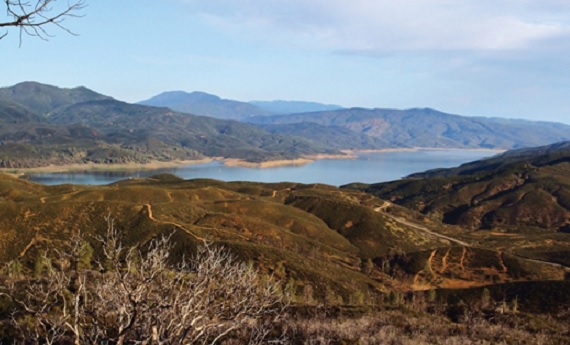 Photo Credit David Goulart
Indian Valley Reservoir Kayak, Canoe, SUP & Kayak Fishing Information
Nestled in rolling foothills, Indian Valley Reservoir is known for its clear, blue water and beauty. With 22 miles of shoreline, kayakers can enjoy all kinds of outdoor recreation fun at this 4,000-acre lake including swimming, canoeing, and kayak fishing.
Photo Credit Matt Spetz
Indian Valley Reservoir provides an abundance of wildlife viewing, nature trails, kayak fishing and primitive camping opportunities, and unless they have restocked the lake there's not going to be many fish because of recent years of drought This secluded reservoir is situated in a picturesque setting, surrounded by low foothills covered with colorful vegetation, oak, chaparral and oak that come to the water's edge.
The lush surroundings provide the perfect backdrop while paddling throughout its 22 miles of shoreline. There are two launch locations positioned on the northern and southern ends of the reservoir. The northern boat launch is quite a challenge to reach due to the rough, narrow, pitted, and winding dirt access road. The reservoir can still be enjoyed by novice paddlers because of the narrow distance between the shorelines, the lack of powerboat traffic, and the 10 m.p.h. boat speed limit, which allows you to easily paddle across the reservoir to the opposite shoreline.
Whether you visit for a day, a leisurely long weekend, or an extended stay, Indian Valley Reservoir will provide you with ample opportunities to enjoy the water, beautiful scenery and wildlife.
Indian Valley Reservoir holds a wide variety and a healthy population of fish including rainbow trout, catfish, red ear perch, steelhead, bluegill, crappie, large and and smallmouth bass. However most kayak anglers flock to Indian Valley Reservoir for its superb bass fishing in the early spring when it isn't uncommon to catch 10 to 20 bass in a day. This destination is often passed by due to the close proximity of Clear Lake, and due to the long and rather annoying lake access road. However, it is well worth this slight aggravation because of its excellent angling opportunities.
Average
Temp
Jan
Feb
Mar
Apr
May
Jun
Jul
Aug
Sep
Oct
Nov
Dec
High
57
60
63
69
76
85
92
91
87
77
62
56
Low
34
37
39
40
44
49
53
52
48
42
37
33
Open: Boating is permitted daily year-round. The boat speed limit is 10 m.p.h. on the reservoir and 5 m.p.h. within 200' feet from the shoreline.
F
ees: There is a day use and camping fee, but no launch or pet fee.
Lake Facilities: There are two boat launches, swimming, sailing, windsurfing, biking and horseback riding trails. Jet and waterskiing are not permitted.