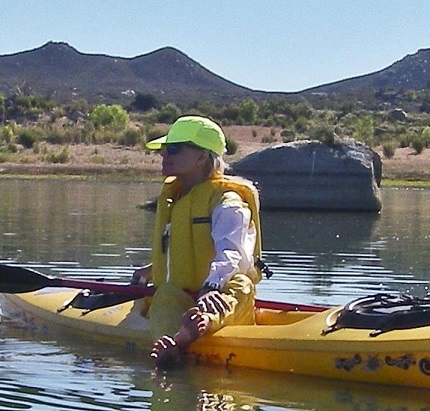 Janice L. Green has lived in Southern California for over half of her life. Her passion for paddling began when she was exposed to a wide variety of water sport activities at an early age while growing up in a small town in Minnesota, the Land of 10,000 lakes.
Janice bought her first kayak in 1988, an Ocean Scupper, manufactured by Ocean Kayak, which she states is "the perfect fit for me, even after trying out many different types of kayaks over the years". As an avid kayaker, Janice recognized the need for a g
uidebook on flat water paddling locations when she first began paddling unfamiliar destinations throughout California and was unable to find sufficient information about them. In the process of compiling maps, camping and lake information on the different lakes she paddled, she realized she had accumulated an enormous amount of valuable data that could be beneficial to other paddlers who either didn't have the time to gather the information themselves, or who didn't want to blindly venture to unfamiliar destinations.
"From experience, I have found the unknown is only fearful because it's unknown. In most cases, once you have conquered your fears, you will find there wasn't anything to be afraid of at all.
Hopefully, these guidebooks will take away any of the concerns you have about paddling unknown destinations."
When Janice first began paddling different lakes she was equipped with very little information. Back then, computers were rare, books on destinations where to paddle in California were even rarer, so all she had was a California road map to lead the way to unexplored territory. Reflecting back to when she first began paddling new destinations Janice recalls, "The fear of the unknown was high in the beginning, and so were risks. I suppose you could say I was flying by the seat of my pants, relying mainly on my physical condition, and common sense. I picked the smallest lakes in the beginning and the ones that weren't as remote. Once I built up my experience and confidence I began to venture to destinations I was frequently the only one there, discounting the bears, of course."
The more she explored remote locations, the more hooked she became on paddling serene mountain retreats. "Whether you seek adventure paddling a remote lake in the wilderness or just want to spend a leisurely time paddling a small lake, kayaking and canoeing can provide a pleasant diversion and a great time away from life's day-to-day stress."
Over the years Janice has been fortunate to have paddled some of the most breathtaking flat water destinations in California.
In 2010, Janice went to 60 new lakes and decided to add them to her guidebooks, at which time she combined the original two guidebooks into one called: Kayaking California's Flat Waters: A Complete Guide to Kayaking and Canoeing California's Flat Waters, which was completed at the end of 2011.
In March 2016, an additional 35 featured lakes, rivers, sloughs and esteros were added in the 8th edition of Kayaking California's Flat Waters bringing the total featured destinations in the guide to 264. In this completely revised 8th edition of Kayaking California's Flat Waters, author Janice L. Green reveals more than 264 spectacular lakes, reservoirs, rivers, bays, harbors, sloughs and esteros in California ideally suited for canoeing and kayaking. From scenic coves and crystal-clear, alpine lakes to winding inlet channels and pine-tree-edged rivers, this updated guide offers paddlers of all ages and abilities access to spectacular paddling adventures. Novice and experienced paddlers, birdwatchers and anglers, campers, and outdoor lovers all will appreciate this user-friendly, comprehensive e-book guide to California's best calm water's to paddle.
Being a solitary paddler for over 25 years, Janice has learned that you need to use common sense and take extra safety precautions. "By taking a few precautions when you go on a paddling adventure, you can increase your chances of having a pleasurable and safe trip, whether you choose to paddle alone or with a companion." By following a set of rules, Janice has maintained her safety while paddling for nearly three decades.
Janice is "extremely grateful for being able to do the things I enjoy and love, for having close friendships and family, and God permitting, continued life." After three car accidents, Janice quickly became aware of how precious life is and how quickly it can be taken away. Since then, she has developed the attitude, "Don't put off what you can do today, because tomorrow may never happen." It is her love of kayaking and the peace it brings her that inspired her to share her experiences with you, so that you too can enjoy the pleasure of paddling. She hopes others can find the same joy and peace she has found through paddling flat water destinations in California.