Jenkinson Lake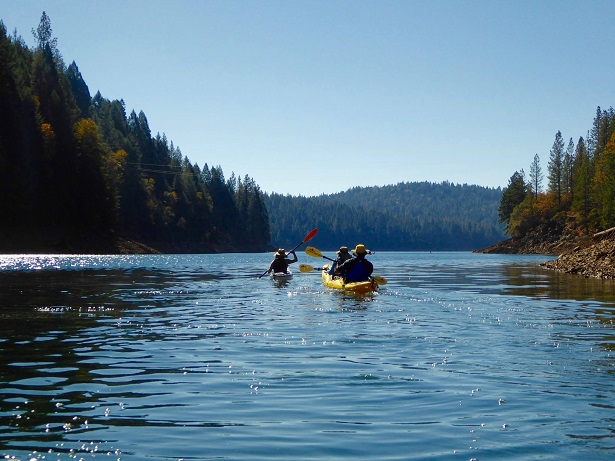 Photo Credit Etsuko Stone
Jenkinson Lake Kayak, Canoe, SUP & Kayak Fishing Information
Striking views of huge ponderosa pines bordering the water's edge provide dramatic landscape views while paddling. Jenkinson Lake is not only one of the most beautiful lakes in all of California, but it is also ideal for paddling and fishing. Located in the El Dorado National Forest District in the Sly Park Recreational Area, this lake offers a wide r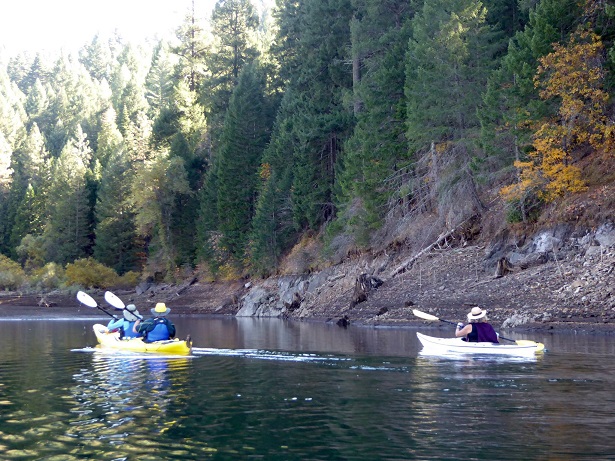 ange of aquatic recreational activities. One of the special features of Jenkinson Lake is the abundance of wildlife that can be seen in the area, including deer raccoons, bears and bobcats.
Mountain biking and picnicking are inviting possibilities while visiting this sparkling crystal lake. Jenkinson Lake attracts an abundance of visitors, so plan to arrive early on summer weekends. Visitors also enjoy waterskiing, windsurfing, and boating. Jenkinson Lake allows two stroke motors, however jet skis are not permitted.
The lake's shoreline at low water level conditions offers numerous sandy beaches to relax upon. The clear blue water reflects mirror-like images of the colorful foliage along the shoreline, which creates unique photographic opportunities. The lake features pristine paddling opportunities, miles of hiking and horseback riding trails around the lake, and ideal campsite settings. It is a popular summer destination, so make your reservations far in advance if you plan to camp here. Jenkinson Lake does allow two stoke motors however jet skis are not allowed. Jenkinson Lake has two launch ramps.
For the kayak angler, Jenkinson Lake holds a good population of smallmouth bass, bluegill, mackinaws and rainbow trout which provides the best action in the early spring near the dam or in the upper part of the eastern arm of the lake which has a 5 m.p.h. boat speed limit. During the later part of the spring and through the summer, your best bet is to troll for rainbow and brown trout from the narrows on upstream.
Average
Temp

Jan

Feb
Mar
Apr
May
Jun
Jul
Aug
Sep
Oct
Nov
Dec
High
53
56
59

65

73

81
88
88
83
73
59
53
Low
36
35
36
40
40
530
60
59
55
48
39
35
Open: The lake is open daily all year for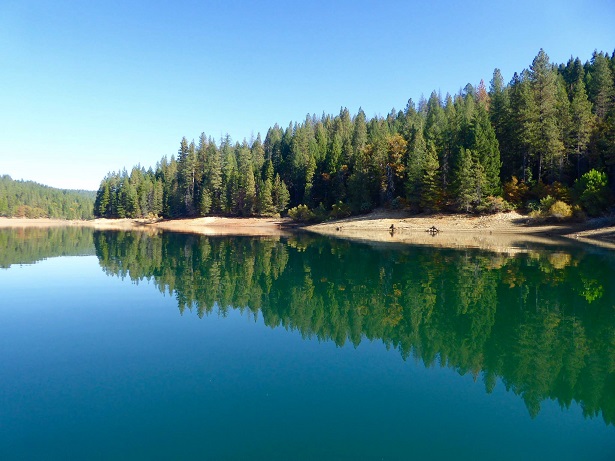 boating from sunrise to sunset, weather permitting. The boat speed limit is 35 m.p.h. in the main lake, 5 m.p.h. within 200' feet of any shoreline and 5 m.p.h. in restricted areas and in swimming zones.
Fees: There are fees for day use, for pets, to launch and to camp.
Lake Facilities: There are 159 tent or RV sites with vault toilets, water, two boat launches, boat rentals (including kayaks and canoes), fishing, sailing, pow
er boating, jet and waterskiing, windsurfing, hiking, bicycling and horseback riding trails. Pets are allowed on a leash.