Kerckhoff Reservoir
Kerckhoff Reservoir Kayak, Canoe, SUP & Kayak Fishing Information
Kayaking is one of Kerckhoff Reservoir's most enjoyable diversions, presenting you with the opportunity to view the reservoir at its best vantage point. An array of colorful trees reflect upon the re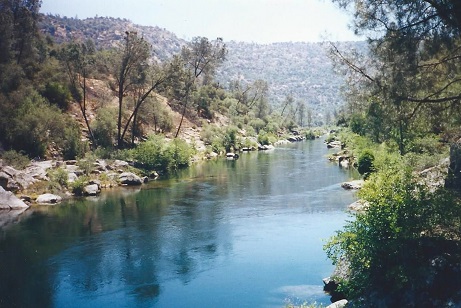 servoir's sparkling blue water, which offers breathtaking scenery while paddling this small tranquil haven. As you weave your way around the reservoir's shoreline, keep your eyes open for the migrating or nesting birds that are most populous in early spring and late fall.
Since boat access is limited to car top watercraft, fishing from the shoreline is another option at Kerckhoff Lake. The reservoir is open year-round for fishing but unfortunately, similar to Redinger Lake, Kerckoff Reservoir is not stocked with any trout or large mouth bass, but you might hook a lone striped bass, which tend to be found in deep water.
Average
Temp
Jan
Feb
Mar
Apr
May
Jun
Jul
Aug
Sep
Oct
Nov
Dec
High
56
58
60
66
75
85
93
93
86
76
64
57
Low
31
33
35
38
44
51
57
57
52
44
36
31
Open: Kerckhoff Reservoir is open daily all year for boating, twenty-four hours a day, with running lights at night except for when there are road closures. The boat speed limit is 35 m.p.h. from 6:00 a.m. to 8:00 p.m., and 5 m.p.h. from 8:00 p.m. to 6:00 a.m. Fees: There is no day use or launch fee.
Reservoir Facilities: This isolated and often deserted reservoir with primitive campsites is suitable for adventurous paddlers who crave remote getaways with an inspiring, naturally beautiful setting. RVs, large vehicles or vehicles pulling trailers are not advised to travel on the access Road 222 or Road 225 to reach this reservoir nor on Powerhouse Road when exiting Kerckhoff Reservoir. There is only a hand launch access along Road 222. I re
commend paddling this tiny desolate reservoir with a companion. Power boats, jets and water skis, fishing and swimming are not allowed on the reservoir. Kerckhoff Reservoir is not well-suited for windsurfing or sailing due to submerged rock hazards and the narrow distance between the shoreline.