Lake Davis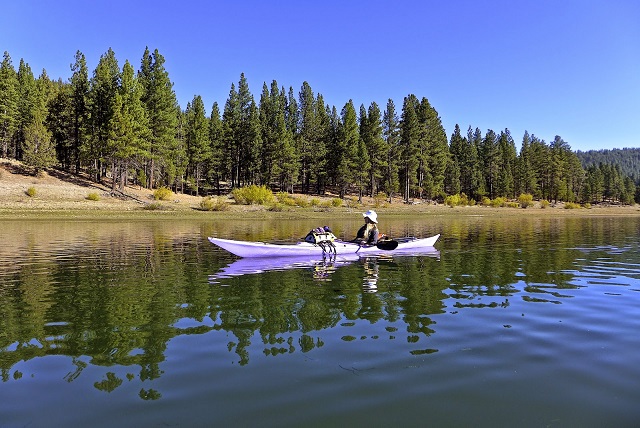 Photo Credit Sam Mills
Lake Davis Kayak, Canoe, SUP & Kayak Fishing Information
Lake Davis is located in the central region of Beckworth Ranger District,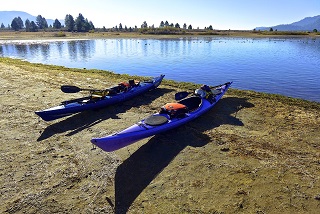 about seven miles north of the town of Portola in the Plumas National Forest. The inviting coves, throughout the lake's entire twenty-eight miles of shoreline provide awesome sights. The shoreline consists of a diversity of private inlets with sandy beaches to relax upon.
Davis Lake Recreation Area is home to beautiful Davis Lake, Campground and Day Use Area, popular for all kinds of recreational opportunities, including swimming, fishing, boating, birding and wildlife viewing. The surrounding scenic forests make Davis Lake a picturesque place to spend quality time outdoors.
This often deserted large lake offers an exceptional paddling experience in a peaceful atmosphere for all levels of paddlers. Its four boat launch locations allow you to paddle the lake sections at a time. Lake Davis allows all types of boating except for jet and waterskiing.
Visitors can also spend time birding, watching for a variety of geese and ducks that migrate through the area. Wildlife viewing is also available, as foxes and bobcats call the area home.
The Ultimate Paddlers Guide to 264 Extraordinary Flat Water Destinations in California. BUY HERE

Kayaking California's Flat Waters is the most beautiful and informative resource available for California paddling enthusiasts.
Lake Davis is one of California's top rainbow trout fishing destinations. The lake is loaded with a healthy population of large-size rainbow and brown trout in the 14 to 20 inch class. There are also a fair number of bass and catfish. Th
e nutrient rich waters supply an abundance of insect life, which is ideal for growing big fish.
The best bite for trout is when the ice thaws, in the late spring through June. Anglers also have good success trolling for trout from the Grizzly Creek campground to the dam. The shallow coves and long points on the west side of the lake are best for fly fishing. These areas hold the majority of the aquatic insects and vast weed beds that are more conducive to fish taking artificial imitations.
Average
Temp
Jan
Feb
Mar
Apr
May
Jun
Jul
Aug
Sep
Oct
Nov
Dec
High
41
45
49
57
66
76
84
84
76
65
50
42
Low
18
21
26
29
34
39
42
40
35
29
23
18
Fees: There is a fee to camp but no launch or day use fees.
Lake Facilities: The lake facilities consist of swimming, fishing, hiking and bicycling trails, power boating, windsurfing, sailing, four boat launches, boat rentals and a convenience store. Jet and waterskiing are not permitted. Leashed pets are allowed.
Lake Davis, California, located at the the base of the Sierra Nevada Mountains, is a serene spot surrounded by dense forests. Kayakers who camp here can expect lush surroundings, tranquil vistas and the peaceful sounds of nature.