Lake Earl
Photo Credit Scott Harrison
Lake Earl Kayak, Canoe, SUP & Kayak Fishing Information
Lake Earl is located near the Pacific Ocean, west of Lake Tala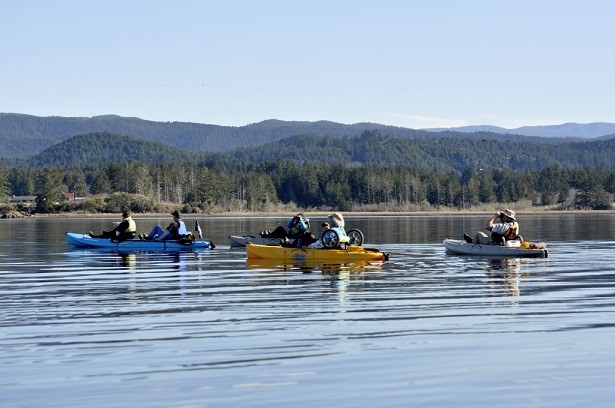 wa. The lakes are connected by short waterway and borders coastal sand dunes. The lake is the largest lake in Del Norte County, but it attracts few boaters due the the dense water vegetation.
The launch access is the actual end of the road submerged underwater. There isn't a designated parking lot nor any restroom facilities . In August 2016, the water level was too low to accesses the lake, due to the thick water reeds and vegetation at Buzzini Road. Also the Old Mill Road has a gate across the road.
Lake Earl is the largest estuarine lagoon on the west coast in North America. Lakes Earl and Talawa form a single estuarine lagoon filled with brackish and fresh water, They are joined by a narrow passage and are separated from the ocean by a sandy berm.
Winter rains and freshwater streams cause the lake to rise and fall with the seasons. When the water level rises high enough, a channel opens in the sandbar. Lake Earl maintains its level by using the beach like a dam and then it breaches the sand and lowers itself. The elevation ranges between +2' – +8' or more.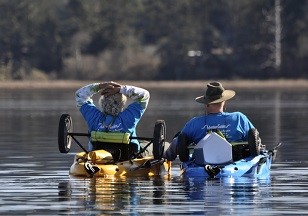 Launch at the Narrows, due to the absence of mud. The Narrows is located at the spot, where Lake Earl becomes Lake Talawa. Boaters find the Narrows the most accommodating area for boating because of dense vegetation in the lakes.
Special features of this mystical lake are its unique swamp-like beauty, the utter silence, and the tranquil atmosphere. Wildlife at Lake Earl is both abundant and varied including such animals as canvasback, western grebe, coastal black-tailed deer and beaver.
Lakes Earl is located just north of Crescent City. Lake Talawa is to the west which connects to Lake Earl by a narrow channel of water. There is a hand launch access at the narrows where Lake Earl becomes Lake Talawa. It is the deepest water in the lagoon but the majority of the lake is shallow. The fishing is typically pretty poor at Lake Earl, but on occasion you may catch a few cutthroat trout which enter into Lake Earl from Lake Talawa from the ocean during the wintertime.
Average
Temp
Jan
Feb
Mar
Apr
May
Jun
Jul
Aug
Sep
Oct
Nov
Dec
High

54

54

56

57
60
63
65
66
66
63
57
54
Low
40
41

42

43
46
48
50
51
47
45
42
39
Open: Boating and camping is permitted all year. Day use hours are from sunrise to sunset. A permit is required to camp. There is no posted boat speed limit.
Fees: There is a fee to camp and for horses but no day use or launch fee.
Lake Facilities: The lake facilities consist of beach launch access, fishing, and swimming. At present there are no hiking trails. The upland area can be explored on foot through the forest of Sitka spruce and pine trees. Jet and waterskiing are not allowed.