Lake Evans and Lake Webb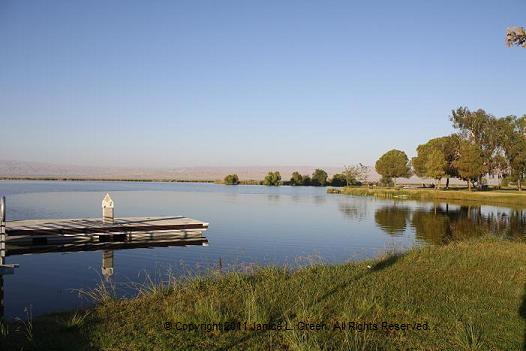 Lake Evans and Lake Webb Kayak, Canoe, SUP & Kayak Fishing Information
Lake Webb and Lake Evans better known as "Buena Vista Lakes" are located in a flat basin, twelve miles northeast of the town of Taft and twenty-three miles southwest of the city of Bakersfield, at an elevation of 350'. The lakes are surrounded by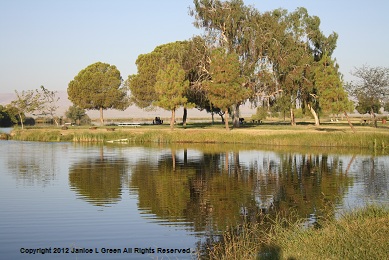 a low bushes and small trees. On beyond that lies a huge flat dirt basin. One outstanding feature of Buena Vista Lakes is the extremely well maintained grassy picnic grounds along the northern side of the lakes.
Lake Evans, at only 86 acres, offers a more peaceful pursuit of paddling due to the 5 m.p.h boat speed limit. Lake Evans the smaller of the two lakes, has 2.5 miles of shoreline and is more suited for novice paddlers, whereas Lake Webb, has 7.5 miles of shoreline which provides a longer distance paddle on smooth glassy water in the early morning hours.
There is a designated jet or water-ski area on Lake Webb, so be sure to stay along the shoreline and paddle with the flow of traffic. Crossing over to one of the small islands in the center of Lake Webb is a little risky if there are powerboats on the lake. Use caution for powerboats moving at a fast 45 m.p.h. speed coming around from the islands located in the middle of the lake, because they may not be able to see you. Both Lake Webb and Lake Evans produce large striped bass, catfish and crappie. Other species of fish taken here include largemouth bass, rainbow trout and bluegill. Rainbow trout are planted during the winter months by the Mount Lassen Hatchery at Lake Evans only, where some trout caught have exceeded 12 pounds.
Average
Temp
Jan
Feb
Mar
Apr
May
Jun
Jul
Aug
Sep
Oct
Nov
Dec
High
55
62
68
75
84
91
96
95
89
80
66
55
Low
36
40
44
47
64
60
65
63
56
49
39
33
Open: The lakes are open daily year-round from sunrise to sunset for boating. There is a 45 m.p.h. boat speed limit on Lake Webb, (for jet and water-skis), and a 5 m.p.h. boat speed limit on Lake Evans. Day use is from 6:00 a.m. to 10:00 p.m.
F
ees: There is a day use, pet, launch and fee to camp.
Lake Facilities: There is a general store, gasoline, two boat launches, a laundromat, picnicking, jet and waterskiing, power boating, fishing, swimming, bicycling trails, and windsurfing, (only on Lake Evans). Pets are allowed on a leash.