Lake Hennessey
Lake Hennessey Kayak, Canoe, SUP & Kayak Fishing Information
Area Map #138 Miles of Shoreline: N/A Lake Surface Acres: 860 Elevation: 331' Address: Highway 128 Sage Canyon Road Rutherford, CA 94559 Ph: 707 226-7455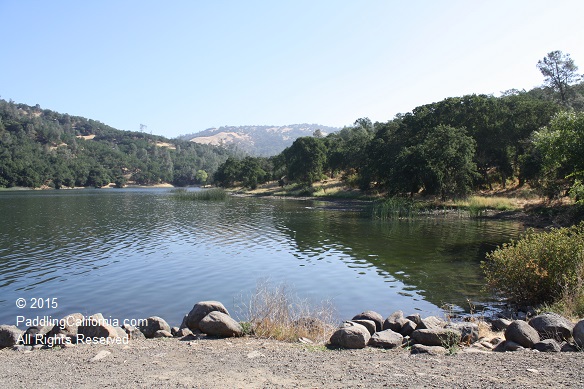 Paddle Notes: Lake Hennessey offers a peaceful retreat for kayak enthusiasts. It is surrounded by an abundance of striking scenic views and rolling foothills. Outdoor lovers will savor the amazing paddling opportunities at this superb paddling retreat. If you enjoy spending a lot of time outdoors, you'll enjoy hiking throughout the rolling hills surrounding Lake Hennessey.
There's something here for outdoor enthusiastic of every kind – those who want to get their hands dirty in the tackle box, and those who want to relax with their binoculars for world-class birding. Due to the 10 m.p.h. boat seed limit, the lake is quiet – perfect for kayaking and casting out a line. This area is packed with opportunities for an abundance of outdoor recreational opportunities.
Kayak Fishing: Anglers must obtain a an annual or daily fishing and boating permit from the Lake Hennessey caretaker. During the winter and spring, rainbow trout provide excellent fishing opportunities for kayak anglers. The Department of Fish and Game stocks approximately 6,000 pounds of rainbows in the lake every year from November through April. Black Crappie fishing has declined, but anglers can still catch decent-sized fish using minnows and small jigs at night near brush and structure.
Other pan fish found in Lake Hennessey include bluegill, redear and green sunfish. Species found in the lake include rainbow trout, largemouth and smallmouth bass, channel and white catfish, bluegill, redear sunfish, black crappie, and brown and yellow bullhead. A fishing permit must be paid for persons 16 years or older. Daily fee must be submitted in the drop box at the boat launch.
Wind & Weather Conditions: The comfortable weather conditions throughout the year provide kayaking opportunities year-round. The daytime high air temperatures average in the mid-80s in the summer, in the low 70s in the spring and fall and in the mid-50s in the winter.
The warmest month of the year is July with an average maximum temperature of 83 degrees while the coldest month of the year is December with an average minimum temperature of 57 degrees. The annual average precipitation at Lake Hennessey is 26 Inches. The wettest month of the year is January with an average rainfall of 5 Inches.
Average
Temp
Jan
Feb
Mar
Apr
May
Jun
Jul
Aug
Sep
Oct
Nov
Dec
High
57
62
65
71
75
81
83
82
82
76
64
57
Low
39
42
43
45
49
53
55
55
53
49
43
39