Lake Kaweah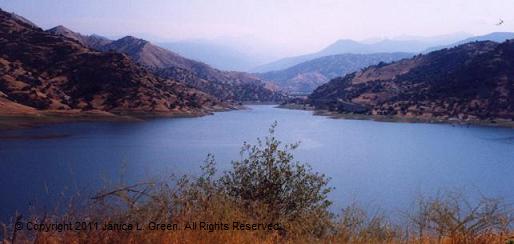 Lake Kaweah Kayak, Canoe, SUP & Kayak Fishing Information
The powerful aura from the magnificent Sierra Nevada foothills, which surrounds Lake K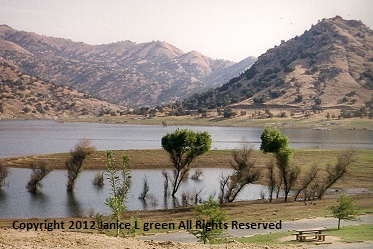 aweah can be a little intimidating at first glance, because they make the lake appear larger than it really is. This sprawling lake's topography can change drastically from year-to-year due to drought conditions or heavy rain precipitation.
Lake Kaweah offers all types of boating recreational activities and excellent paddling opportunities for all levels of paddlers. Novice paddlers can hand launch from the Horse Creek campground and paddle along the southern arm of the lake, or there are two other free day use boat launches you can launch from. One launch is located in the middle of the southwestern shore and the other boat launch is located on the western shore at Lemon Hill. For information about boating registration and operating regulations, call Ph: 559 597-2437.
Lake Kaweah has a huge population of large size largemouth bass and provides excellent year-round bass action. The lake bass record weighed in at 17.5 pounds. Other species of fish taken here include Florida strain largemouth bass, brown and rainbow trout, channel catfish, crappie and bluegill.
The lake is planted yearly by the Department of Fish and Game with 40,000 rainbow trout in the 10 to 12 inch range during the winter and spring. Lake Kaweah is open 24 hours a day for kayak fishing.
Average
Temp
Jan
Feb
Mar
Apr
May
Jun
Jul
Aug
Sep
Oct
Nov
Dec
High
57
64
69
77
85
94
99
97
92
82
67
58
Low
39
41
44
47
53
58
63
62
58
51
42
36
Open: Lake Kaweah is open daily all year for boating, twenty-four hours a day, with running lights at nights. There is no posted boat speed limit except in the 5 m.p.h. zones and 5 m.p.h. at night. NOTE: Jet and waterskiing are not allowed at night.
Fees: Lake Kaweah charges a fee to launch, to camp, for day use and for pets.
Lake Facilities: There is a full-service marina, houseboat, boat and waterski rentals, three boat launches, sailing, fishing, windsurfing, jet and waterskiing, swimming and hiking trails.