Lake McClure
Lake McClure Kayak, Canoe, SUP & Kayak Fishing Information
This boundless lake offers all types of aquatic recreational opportunities, a pleasant paddle, and scenic views of the lake from shady campsites. Its seventy miles of grassy sh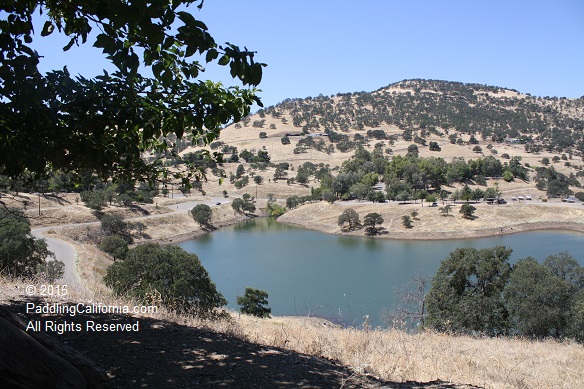 oreline are broken by numerous secluded coves along the western shoreline, (the area I have paddled on this gigantic lake.) There is a minimal amount of boat traffic on Lake McClure even on the weekends during the summer months when the campgrounds are full.
Kayak Fishing: Trolling for trout from your kayak is a popular successful method for fishing at Lake McClure. You may have better success trolling for trout, than catching bass, due to the large number of rainbow trout are planted here. The lake's four boat ramps accesses allows you to launch and fish from different areas on the lake year-round in one of the secluded coves throughout the lake's 70 miles of shoreline.
Lake McClure has a healthy population of bass, catfish, bluegill, crappie, and rainbow trout that are planted in the winter each year by the Department of Fish and Game. Kayak anglers fish along the rocky points for bass. Kayak anglers that like to troll, do well in the deep water in the main body of the lake, especially down near the dam. Other popular trolling areas are to work the area from Horseshoe
Fishing in places like Cotton Creek, Rancho Del Oro Gulch, Piney Creek, and Temperance Creek are also prime spots for bass fishing on Lake McClure.
Average
Temp
Jan
Feb
Mar
Apr
May
Jun
Jul
Aug
Sep
Oct
Nov
Dec
High
55
63
68
75
84
92
97
95
91
81
66
65
Low
37
40
42
45
51
56
61
60
56
46
41
36
Open: The lake is open daily for boating, all year twenty-four hours a day, with running lights at night. There isn't any posted boat speed limit during the day but the boat speed limit at night is 10 m.p.h. Boats must travel in a counter-clockwise direction.McClure Point Boat Launch Ramp and Barrett Cove South Ramp are open to the public.

Horeshoe Bend Ramp CLOSED for the season.
Barrett Cove North Ramp is now CLOSED to the public until further notice.

*Due to water clarity, potential obstacles and debris in Lake McClure, boaters are advised to travel at slow speeds and that you recreate on Lake McClure at your own risk.
Fees: Lake McClure has a day use, launch, camping and pet fee.
Lake Facilities: All types of boating are allowed. There are three marinas, four boat launches, boat rentals, fishing, windsurfing, swimming and hiking trails. Due to the drought conditions, campfires are not allowed at Lake McClure or at Lake McSwain Recreation Area.