Lake Miramar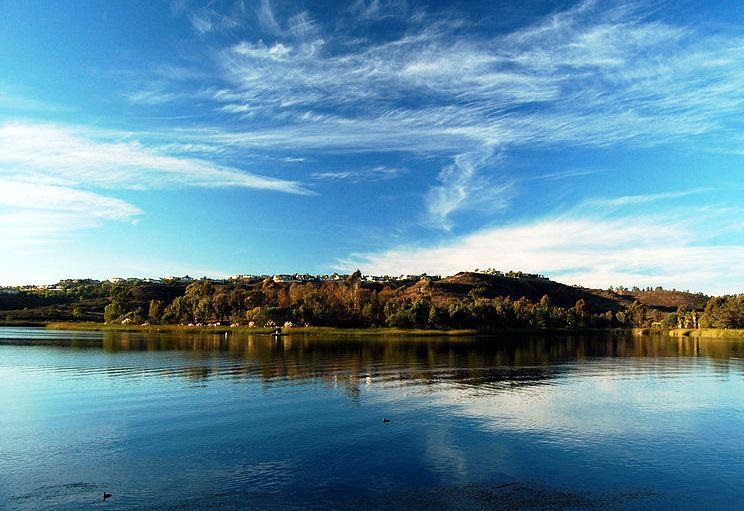 Photo Credit GI Brannock
Lake Miramar Kayak, Canoe & Kayak Fishing Information
This destination is infested with quagga mussels. Cllick here for proper ceaning.
If you are looking for a peaceful get-a-way, but don't want to drive a long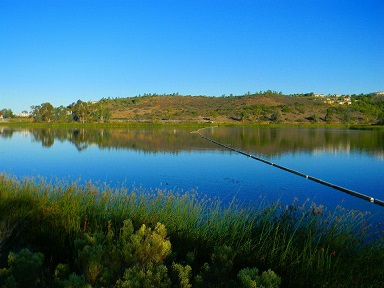 way, consider kayaking at Lake Miramar, located in Scripps Ranch, approximately 15 miles north of downtown San Diego. The lake is a jewel waiting to be discovered, with 4 miles of shoreline and breathtaking scenery. The lake is actually a reservoir of drinking water for the City of San Diego. It is a wonderful destination for kayaking, walking, biking, kayak fishing, and picnicking.
Bicycling, jogging, walking, and roller blading trails provide access to observe the birds and wild flowers of the locally unique habitats surrounding this very popular lake. Vehicular traffic is permitted on the dam access road on fishing days (Saturday through Tuesday - December through September).
Lake Miramar provides outstanding fishing opportunities for bass, bluegill, channel catfish, sunfish, and trout, from the shore, on the water, or from a kayak for a day of fun.Lake Miramar is mostly known for its superb trout fishing, with stocks from the California Department of Fish and Wildlife during in the wintertime. The City of San Diego no longer stocks trout at any of its lakes or reservoirs.
Average
Temp
Jan
Feb
Mar
Apr
May
Jun
Jul
Aug
Sep
Oct
Nov
Dec
High
66
67
67
70
72
76
81
83
81
77
72
68
Low
44
45
46
49
53
57
61
62
61
55
48
43
Open: Lake Miramar is open sunrise to sunset, Saturday through Tuesday, December 1st through September, for kayaking and closed in October and November. The main gates, parking lot, and to the dam close at sunset.
The picnic area, and perimeter road are open seven days a week, however, vehicles are only allowed on the road Saturday through Tuesday. The park is open daily year-round. Fishing and boating are allowed Saturday through Tuesday, from December through September. The concession is open on Saturday and Sunday only, from 6:00 a.m. to 6:00 p.m. he boat speed limit is 5 m.p.h.
Miramar is open to fishing and private boats, kayaks and float tubes seven days a week from one-half hour before sunrise to sunset. The picnic area, and perimeter road are open seven days a week, however, vehicles are only allowed on the road Saturday thr
ough Tuesday. Hikers can walk around the lake, a distance of 4.92 miles. Gates to the dam close at the same time as the main gates/parking lot.
On days and times that the concession is closed must be purchased from the iron ranger pay stations or the electronic pay station (please bring exact change for the iron ranger) located in front of the concession stand.
Fees: There is a launch and fee to fish at Lake Miramar and a fee to camp at Dixon Lake.
Lake Facilities: Swimming, windsurfing,SUP, jet and waterskiing are not permitted. A walking, jogging, bicycling and roller blading path encircles the lake. There is a electronic pay station close to the concession building. Boat rentals, however, are only on Saturday through Tuesday. a sand volleyball court, half-court basketball, horseshoe pits and par course fitness trail. Dogs must be kept on a leash at all times and at least 50 feet away from the water. Dogs are not allowed on kayaks.