Lake Nacimiento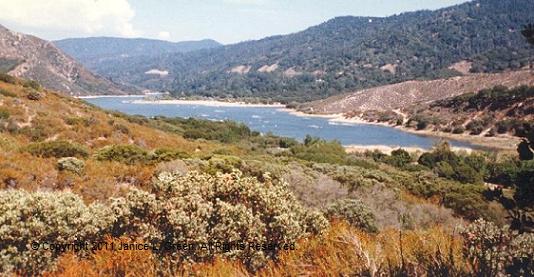 Lake Nacimiento Kayak, Canoe, SUP & Kayak Fishing Information
ONLY VESSELS CARRYING STAMPED AND SIGNED PERMITS WILL BE ALLOWED ON LAKES NACIMIENTO . Your first glimpse of this enormous lake located in the mountains of San Luis Obispo County can be very intimidating, even to the most con
ditioned paddler. This massive one hundred and sixty-five miles of shoreline lake is one of the largest lake listed in California. Unfortunately, there is only on boat launch access, (besides the private launch accesses), which would allow you to paddle different sections of the lake. Since boat-in camping is not allowed, the only other solution to paddle more of the lake would be to be towed to other locations by a powerboat. It is still worthwhile to paddle the eastern loop of Lake Nacimiento and cut across the narrow channel near Bee Rock Road. Just be sure to watch out for fast-moving watercraft when you paddle across to the opposite shore on this popular lake. All private boats, including kayaks, launching will be inspected for quagga mussels. Kayaks must be clean and dry or they will not be allowed to launch.
The good news is Lake Nacimiento is the only lake in California stocked with white bass. In fact, they stock so many of them, there's no limit on them. The bad news is, reaching the schools of white bass in the upper arms of the lake by a kayak is next to impossible, since overnight camping on the shoreline is not allowed.
The second obstacle kayak anglers have is, in the locations you can reach in a kayak, the powerboats tend to scare away the fish. There is also a healthy population of large and smallmouth bass, crappie, bluegill and catfish.
Average
Temp
Jan
Feb
Mar
Apr
May
Jun
Jul
Aug
Sep
Oct
Nov
Dec
High
60
63
66
74
81
89
94
94
89
81
68
61
Low
36
39
41
41
45
50
54
54
51
44
38
33
Open: Lake Nacimiento is open seven days a week all year, twenty-four hours a day, with running lights at night. There is no posted boat speed limit during the day except for the 5 m.p.h. restricted areas and 5 m.p.h. at night.
Fees: There is a day use, launch, pet and camping fee.
Lake Facilities: The facilities consist of a store, a boat launch, kayak rentals, a marina, fishing, power boating, jet and waterskiing, swimming, sailing, and windsurfing.