Lake Oroville
Lake Oroville Kayak, Canoe, SUP & Kayak Fishing Information
The drawback to paddling Lake Oroville is there are only four boat launch accesses, and three of the launches are located within a short distance of each other. Unfortunately, this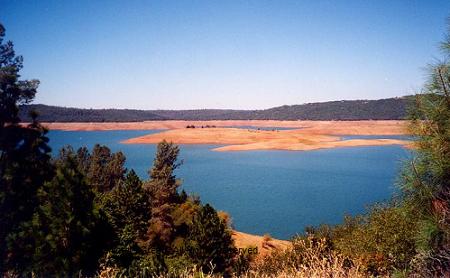 doesn't allow you to paddle the lake sections at a time, unless you opt to camp overnight at one of the boat-in campgrounds. The four launches are located at: Bidwell Canyon Marina, Loafer Creek, Spillway and Lime Saddle Marina.
Camping is allowed in boat-in campsites only. Craig, Foreman Creek and Lime Saddle boat-in campgrounds don't have any water or restroom facilities, but there are two floating restrooms.
Lake Oroville is a popular boating destination because of its warm water and air temperatures. Keep your eyes open for while paddling for wild turkeys, raccoons, ring-tailed cats, and deer.
The Ultimate Paddlers Guide to 264 Extraordinary Flat Water Destinations in California. BUY HERE

Kayaking California's Flat Waters is the most beautiful and informative resource available for California paddling enthusiasts.
Lake Oroville is known as a spotted bass fishing location but it also offers a wide variety of other species of fish including rainbow, lake and brown trout, large, smallmouth bass, coho and king salmon, catfish, crappie, bluegill and sturgeon. Unfortunately, due to the lake's size and limited number of launch locations this destination is often passed by. In hopes of increasing the quantity and size of the bass, the Department of Fish and Game has established a slot limit for all species of bass. Fish between 12" and 15" cannot be kept, or in your possession, even if future release is in tended.
Average
Temp
Jan
Feb
Mar
Apr
May
Jun
Jul
Aug
Sep
Oct
Nov
Dec
High
54
60
65
71
80
89
95
93
87
78
63
560
Low
36
40
43
46
52
58
62
59
55
49
41
37
Open: Lake Oroville is open for boating and camping all year. Boating is allowed twenty-four hours a day, seven days a week. Night boating is allowed with running lights. The boat speed is 5 m.p.h. at night and 5 m.p.h. within 200' from the shore.
Fees: There are fees for day use, for pets, to launch and to camp.
Lake Facilities: The lake consist of four paved boat launch accesses, two marinas, boat r
entals, jet and waterskiing, sailing, power boating, windsurfing, fishing, hiking and horseback riding trails, several primitive boat-in campsites and a visitors center. Swimming beaches are located near Bidwell Canyon and Loafer Creek campgrounds. All types of boating are permitted year-round, twenty-four hours a day.