Lake Perris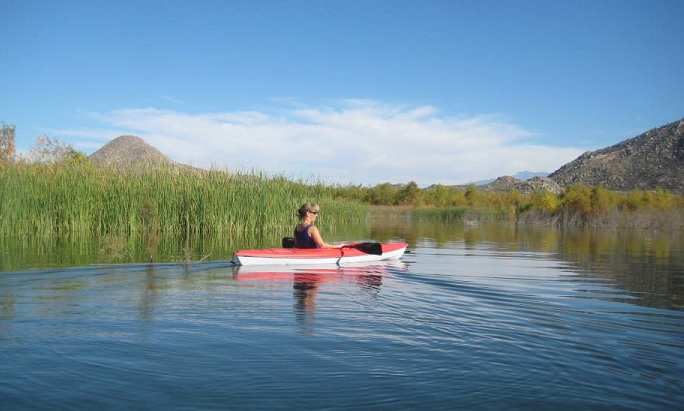 Photo Credit Gina Severance
Lake Perris Kayak, Canoe, SUP & Kayak Fishing Information
Area Map #20 Miles of Shoreline: 9 Lake Surface Acres: 2000 Elevation: 1550' Address: 17801 Lake Perris Drive Perris, CA 92571 Ph:951 940-5603 or 951-657-0676
Paddle Notes: Lake Perris is similar to Lake Elsinore in many ways. They are shaped s
similarly and are very popular lakes for power boating, jet and waterskiing. Because they are both located in extremely hot regions, I would recommend paddling these lakes during the spring or early fall. Both lakes allow all types of boating recreation and each has a 5 m.p.h. buoy zone around the perimeter of the lake.
A few differences are: Lake Perris provides more shady shoreline pullout access locations; it is not as large as Lake Elsinore; there is a bicycle and horseback riding trail around the entire lake; and Lake Perris has a small island to explore in the middle of the lake. All boats, including kayaks and canoes, must travel in a counter clock-wise direction.
Lake Perris is surrounded by rocky foothills which have a vast amount of wildlife. In addition to the abundant wildlife,. birdwatchers will find over 300 species of birds at Lake Perris. Around Lake Perris has miles of trails for biking, hiking and horseback riding.
Kayak Fishing: Lake Perris boosts excellent kayak fishing opportunities throughout the entire year for striped, Alabama and largemouth bass, carp, sunfish, bull and channel catfish. It also offers a good population of rainbow trout which the Department of Fish and Game stocks regularly during the wintertime.
The limit for all species is five fish per person per day. For recorded trout plant information call Ph: 562 594-7268 or you can call the marina for a recent fish report at Ph: 909 657-2179. Fishing is permitted from 6 a.m. until 10 p.m. during the summer and from 6 a.m. until 8 p.m. in the winter. The best fishing action is near the dam of on the back side of the island.
Wind & Weather Conditions: The summer daytime high air temperature can easily top 100 degrees. The rainy months are from November to April. Santa Ana wind conditions bring on strong gusty winds. There is occasional morning fog and choppy waters from the speedboat and jet ski traffic, especially on summer weekends. The average water temperature is about 70° degrees. Kayaks will be inspected for quagga and zebra mussels. Only clean, drain, and dry kayaks will be accepted for inspection.
Average
Temp
Jan
Feb
Mar
Apr
May
Jun
Jul
Aug
Sep
Oct
Nov
Dec
High
66
680
70
77
83
92
98
98
03
84
74
68
Low
36
38
41
44
50
54
59
60
57
49
40
34