Shasta Lake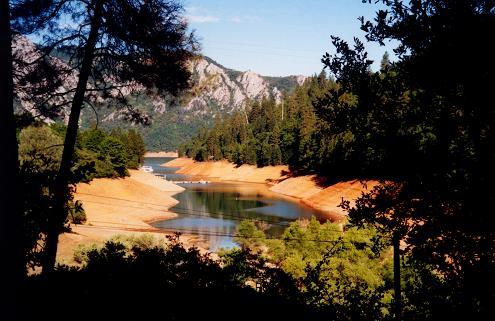 Shasta Lake Kayak, Canoe, SUP & Kayak Fishing Information
This popular lake has a little of everything from calm water to perfect boat-in campsite settings to spellbinding scenery. There is an endless intricate network of scenic coves wit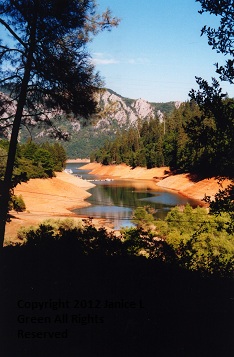 h beautiful sandy beaches to relax upon. With nearly three hundred and seventy miles of shoreline and numerous boat launches you can easily spend several weeks paddling Shasta Lake and never run out of places to explore.
The lake is the largest man-made lake in California and the second largest lake in the entire United States. Shasta Lake is located in the Shasta-Trinity National Forest. It is a popular boating destination in the summertime and offers a huge assortment of aquatic pursuits.
The boat traffic and park visitors during the summer season, especially on a holiday weekend, are a nuisance when you try to launch your boat or try to find a place to park. However, once you're on the water, Shasta Lake provides premium paddling opportunities throughout an astonishing vast number of hidden coves and scenic arms around the entire lake.
Shoreline camping in one of the numerous secluded coves, flanked by a heavily timbered shoreline, is one of the highlights of this low elevation lake. The shoreline campsites boast great lake views, shady sites and plenty of privacy.
The four major arms of Lake Shasta offer spectacular kayak fishing. Bass and trout are the main species most frequently caught by anglers. Shasta Lake also hosts a wide variety of fish species which consists of spotted, large and smallmouth bass, rainbow and brown trout, king salmon, crappie, bluegill, and catfish. Shasta Lake provides habitat for both warm water and cold water fishes. Warm water fish species is limited by the lack of cover, steep-sided banks, and water level fluctuations.
Trolling from your kayak is one of the best techniques at this time. The best locations to troll include Big Backbone Creek Inlet, Waters Gulch, Elmore Bay and between the Pit River Bridge and Shasta Dam. As water temperatures warm, the trout become more actively oriented to the schools of threadfin shad.
Average
Temp
Jan
Feb
Mar
Apr
May
Jun
Jul
Aug
Sep
Oct
Nov
Dec
High
47
53
59
66
75
84
92
91
85
73
55
47
Low
31
33
35
37
42
48
52
51
45
39
35
31
Open: The lake is open daily year-round, twenty-four hours a day with running lights at night. The boat speed limit is 5 m.p.h. in the coves, in the marinas and within two hundred feet of any shoreline. At night the boat speed limit is 15 m.p.h.
Fees: There are fees to launch, to camp and for pets.
Lake Facilities: There are thirty-five resorts and twenty-one boat launches, eleven full-
service marinas, boat rentals, snack bars, grocery stores, boat-in camping, power boating, fishing, swimming, sailing, jet and waterskiing, and hiking..