Lake Siskiyou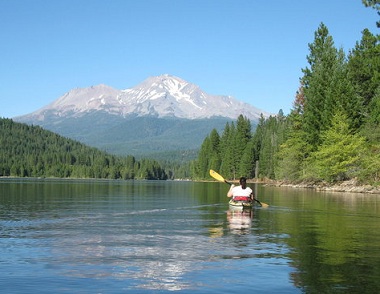 Photo Credit Barbara Barrett-Jerpe
Lake Siskiyou Kayak, Canoe, SUP & Kayak Fishing Information
Thick stands of pine trees hover majestically above the shore, which can only be described as one of the most spectacular shorelines I have ever paddled. Lake Siskiyou is nestled in the Shasta-Trinity National Forest at the foot of snow-capped Mt. Shasta. The lake has a large campground with campsites situated in a forest setting of tall pines on the western shore. It is a popular summer vacation destination, so I would advise booking camping reservations well in advance.
The only drawback to this peaceful haven is it is subject to gusty wind conditions, which draw windsurfers and sailboats like flies. There is a small hand
launch access just off W.A. Barr Road on the right-hand side, just before the bridge by the dam. The other boat launch access is located in the middle of the western shore by the campground and day use area.
Lake Siskiyou is known by local fishermen for its excellent trout fishing and its wide variety of fish species including spotted bass, rainbow, brown, and brook trout. The Department of Fish and Game annually plants the lake with 12,000 rainbow trout and 1,000 brook trout in the 10 to 12 inch class, along with 300 browns. The springtime produces the best action for big trout.
Average
Temp
Jan
Feb
Mar
Apr
May
Jun
Jul
Aug
Sep
Oct
Nov
Dec
High
44
48
52
59
67
760
83
83
76
64
50
44
Low
26
28
30
33
39
45
49
48
43
37
30
26
Open: The campground is open from April 1st to November 1st. The lake is open all year for boating except when the lake is frozen over. The boat speed limit is 10 m.p.h.
Fees: There are fees to camp, to launch and for pets. NOTE: A day use fee is charged at Lake Siskiyou Campground and Marina, which includes the launch fee. Photo Credit Barbara Barrett-Jerpe
Lake Facilities: The facilities include a boat launch, boat rentals, (including kayaks and canoes), a full-service marina, a snack bar and groceries, power boating, sailing, windsurfing, swimming, hiking and fishing. Jet and waterskiing are not permitted. Pets are allowed on a leash.