Lake Sonoma
Lake Sonoma Kayak, Canoe, SUP & Kayak Fishing Information
Area Map #136 Miles of Shoreline: 50 Lake Surface Acres: 3600 Elevation: 495' Address: 3333 Skaggs Springs Road Geyserville, CA 95441
Photo Credit Lyrinda Snyderman
Paddle Notes: Lake Sonoma lies nestled in the beautiful coastal foothills of Sonoma County, a forty-five minute drive north of Santa Rosa. Kayakers will enjoy exploring the lake's scenic shoreline and coves, surrounded by 8,000 acres of oak woodland. With its outstanding kayaking, hiking and fishing opportunities, Lake Sonoma is truly a superb getaway.
Lake Sonoma is also one of the best boat-in camping destinations in California. The lake boosts nearly 100 boat-in campsites scattered around the lake. Some campsites lie close to the lake's ski zones while others are situated in more secluded regions perfect for fishing or swimming. Boaters who wish to sleep on their boats may anchor anywhere within the park, but boats must be equipped with anchor lights. If kayakers wish to tie up to the shore, they must be at one of the designated campgrounds.
Lake Sonoma allows all types of boating, so beware of fast-moving watercraft, especially during foggy conditions in the middle of the lake near Warm Springs Dam. On warm days the lake is buzzing with motor-driven watercraft and jet-ski activity. There are no-ski areas and 10 m.p.h. speed zones in the Warm Springs and Dry Creek Arms and 5 m.p.h. speed zones in Cherry Creek and Yorty Creek inlets.
The lake's two main arms provide an array of scenic inlets to explore. There are three launch locations. To reach the Yorty Creek boat launch, Hot Springs Road is not recommended for motor homes or vehicles pulling trailers. The shape of the lake is not well suited for novice paddlers, unless they only paddle the very upper or lower arms of the lake.
Photo Credit Lyrinda Snyderman .
Kayak Fishing: The largemouth bass at Lake Sonoma can grow big due to the abundance of threadfin shad. The record for largemouth bass was 15.37 pounds. The lake also provides exceptional fishing opportunities for sunfish population, including crappie, redear, and smallmouth bass which are frequently caught by anglers, fishing by the dam. The submerged trees from the flooding of the lake provide excellent fish habitat.
Wind & Weather Conditions: The daytime high air temperature ranges between the 80s and 90s in the summer, between the 60s and 70s during the spring and fall, and in the 50, and 60s in the winter. The summer is hot and dry, and the winter is foggy and wet, though there were foggy conditions in June and July both time I paddled here. Fluctuating water levels occur in the Warm Springs Arm, which create unmarked water hazards, and is subject to closure due to fluctuating water levels.
Average
Temp
Jan
Feb
Mar
Apr
May
Jun
Jul
Aug
Sep
Oct
Nov
Dec
High
57
62
66
73
80
87
90
88
84
76
64
57
Low
39
42
44
46
50
53
54
54
53
49
43
39
Terrain: Lake Sonoma is surrounded by vineyards and coastal foothills in Sonoma County. Lake Sonoma's topography reminds me a lot of Lake McClure, located in Central California. The only difference is Lake Sonoma has foggy weather conditions ant the lakes' water color is an amazing shade of blue. In addition to the plentiful wildlife at Lake Sonoma, there are beautiful wildflowers from early spring to early summer.
Photo Credit Lyrinda Snyderman
Open: Kayaking is allowed daily, 24 hours a day, year-round. The boat speed limit is 50 m.p.h. There are 5 and 10 m.p.h. boat speed limit zones, except in the designated jet and waterski areas.
Fees: There is a fee for day use, to launch and to camp.
Lake Facilities: Lake Sonoma is open to all boating and jet skiing. There are boat rentals (including canoes), a full-service marina, four boat launches, a snack bar and small store, fishing, windsurfing, swimming, hiking and horseback riding trails. The Warms Springs Recreation Area nearby Lake Sonoma has a picnic area with a group pavilion. T
There are boat ramps and a marina, and visitors to Lake Sonoma can explore the water from a canoe, sailboat, or motorboat. Water skiing is also popular on the lake, but only in specified areas. There are 40 miles of trails near Lake Sonoma for hiking, biking, and horseback riding, including a trail to the Lake Sonoma Overlook. Use caution while hiking, there are ticks here.
Directions: From the city of Cloverdale, drive two miles south on U.S. Highway 101 to the town of Geyserville. In Geyserville, take the Dutcher Creek Road exit and turn left. Drive northwest for four miles, then turn left on Dry Creek Road. Dry Creek Road turns into Skaggs Spring Road. After crossing a small bridge, the visitors center will be on your right, near the dam. Map
Lake Sonoma Camping Information
All campers must check in at the Lake Sonoma Center before launching their vessels. Campers using the Yorty Creek Recreation Area must obtain a visitor pass and security combination. Reservations must be made 2 days prior to camping.
Liberty Glen Campground: There are 113 tent and RV sites with flush toilets, showers, water and a fee to camp. NOTE: Liberty Glen Campground is located two-and-one-half miles from the lake on Rock Pile Road.
Boat-in Camping: 100 shoreline tent sites with vault toilets. No water or fee to camp.
Warm Springs: There are boat-in sites with pit toilets and potable water.
Reservations:
Required: For Group Sites
Accepted: Yes
Check-in Time: 12 noon
Check-out Time: 11:00 a.m.
Minimum Stay: 0
Maximum Stay: 14 days
Reservations #: 800 444-7275
www.reserveusa.com
___________________________________________________
Contributing Photographer
The captivating photos above were photographed by Lyrinda Snyderman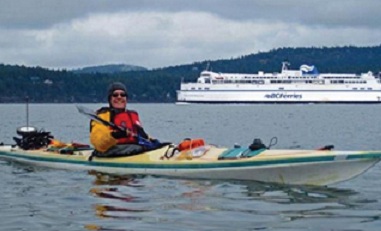 . (Photo of Lyrindia photographed by Bill Brackin.)
Lyrinda Snyderman began kayaking in 1954 when her uncle sat her in his FolBot on Squibnocket Pond in Chilmark, Massachusetts. In 1971, she bought her first kayak, a two-seater folding Klepper Aerius. Since then Lyrinda has paddled rivers, lakes and ponds, bays and seacoasts, primarily in New England and California. Read full bio