All campers must check in at the Lake Sonoma Center before launching their vessels. Campers using the Yorty Creek Recreation Area must obtain a visitor pass and security combination. Reservations must be made 2 days prior to camping.
Liberty Glen Campground: There are 113 tent and RV sites with flush toilets, showers, water and a fee to camp. NOTE: Liberty Glen Campground is located two-and-one-half miles from the lake on Rock Pile Road.
Boat-in Camping: 100 shoreline tent sites with vault toilets. No water or fee to camp.
Warm Springs: There are boat-in sites with pit toilets and potable water.
Reservations:
Required: For Group Sites
Accepted: Yes
Check-in Time: 12 noon
Check-out Time: 11:00 a.m.
Minimum Stay: 0
Maximum Stay: 14 days
Reservations #: 800 444-7275
www.reserveusa.com
Contributing Photographer
The captivating photos above were photographed by Lyrinda Snyderman.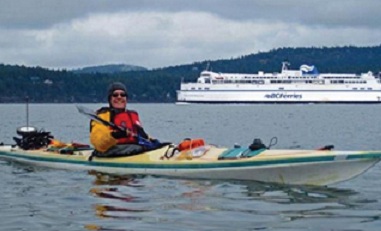 (Photo of Lyrindia photographed by Bill Brackin.)
Lyrinda Snyderman began kayaking in 1954 when her uncle sat her in his FolBot on Squibnocket Pond in Chilmark, Massachusetts. In 1971, she bought her first kayak, a two-seater folding Klepper Aerius. Since then Lyrinda has paddled rivers, lakes and ponds, bays and seacoasts, primarily in New England and California. Read full bio