Lake Sutherland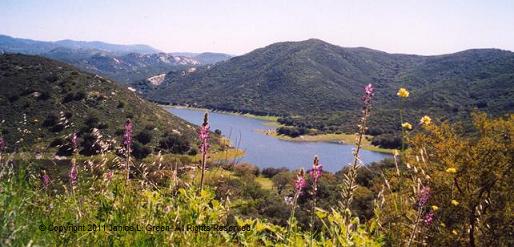 Lake Sutherland Kayak, Canoe & Kayak Fishing Information
Sutherland Lake is perhaps the most popular of all attractions in the city of Ramona. What's not to like? It is truly a paddler's paradise and photographer's haven. It is a perfect location for novice paddlers and kayak anglers.
Sutherland Dam Road, the access road to reach the lake entrance is a picturesque drive but not nearly as captivating as the lake itself with its lush landscape scenery. Prior to paddling Lake Sutherland I was told that there was fourteen miles of shoreline. However, since I paddled the lake, I would estimate its perimeter is closer to eight or nine miles. As of 4/2014 it is even less. Lake Sutherland only has 10% of its water level capacity.
Sutherland Lake provides one of the finest kayak fishing destinations in Southern California for Florida-strain largemouth bass, crappie, bluegill, channel catfish, bullhead and carp from March to late fall. The north shore up along the Mesa Grande Arm is the favorite spot to catch bass, using plastic worms and Pig 'n Jigs along the outcroppings. The lake record for largemouth bass weighed in at 16 pounds, 4 oz.
Average
Temp
Jan
Feb
Mar
Apr
May
Jun
Jul
Aug
Sep
Oct
Nov
Dec
High
66
68
73
76
79
84
90
91
88
81
73
67
Low
38
39
41
43
48
51
56
57
55
48
42
37
Open: Sutherland Lake is open to kayaking the second weekend in March through the second weekend in October on Friday, Saturdays and Sundays from sunrise to sunset. The boat speed limit is 20 m.p.h. Sutherland Lake is open on a Friday, Saturday and Sunday schedule for shore fishing only as the launch ramp is currently closed. Float Tubes and carry-ons are permitted. The launch ramp is closed due to low water levels and it is not anticpated to be open at that time.
Fees: There is a fee to launch, to fish and to camp but no day use or pet fee.
Lake Facilities: The lake's facilities consist of boating, fishing, sailing, a boat launch, restroom facilities, and boat rentals, (including kayaks). Swimming, windsurfing, SUP boarding, jet and waterskiing are not permitted. Pets are allowed on a leash, but not in the water or near the shoreline.
All private boats, including kayaks will be inspected for quagga mussels before launching. Ka
yaks must be clean and dry or they will not be permitted to launch. Dogs are permitted but must remain on no more than 6 ft. leash at all times. Dogs are not allowed in boats, rental or private. There is no camping facilities at the lake.