Lake Sutherland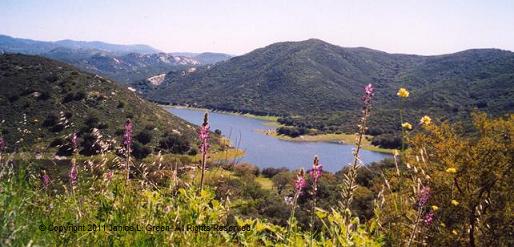 Lake Sutherland Kayak, Canoe, SUP & Kayak Fishing Information
Area Map # 5 Miles of Shoreline: 8.25 Lake Surface Acres: 557 Elevation: 2074'
Address: 22600 Sutherland Dam Road Ramona, CA 92065 Ph: 619 465-3474
Paddle Notes: Sutherland Lake is perhaps the most popular of all attractions in the city of Ramona. What's not to like? It is truly a paddler's paradise and photographer's haven. It is a perfect location for novice paddlers and kayak anglers.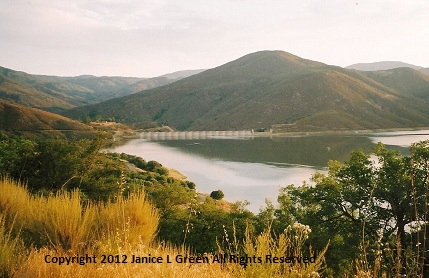 Sutherland Dam Road, the access road to reach the lake entrance is a picturesque drive but not nearly as captivating as the lake itself with its lush landscape scenery. Prior to paddling Lake Sutherland I was told that there was fourteen miles of shoreline. However, since I paddled the lake, I would estimate its perimeter is closer to eight or nine miles. As of 4/2014 it is even less. Lake Sutherland only has 10% of its water level capacity.
Two unusual features about this lake were the herds of cows and the few donkeys that were grazing along the shoreline in the narrow canyon on the Santa Ysabel Arm, and the millions of little green mosquito-like bugs called "midges" which were floating on and just above the water. They were just as annoying as mosquitoes because every time I paddled or my boat moved, these little buggers would get stirred up and get into everything including my eyes, nose and mouth! Thankfully, there weren't any midges the past several years I paddled here.
NOTE: Sutherland Lake is infested with quagga mussels.
Kayak Fishing: Sutherland Lake provides one of the finest kayak fishing destinations in Southern California for Florida-strain largemouth bass, crappie, bluegill, channel catfish, bullhead and carp from March to late fall. The north shore up along the Mesa Grande Arm is the favorite spot to catch bass, using plastic worms and Pig 'n Jigs along the outcroppings. The lake record for largemouth bass weighed in at 16 pounds, 4 oz.
Wind & Weather Conditions: Lake Sutherland does not usually get windy unless there are Santa Ana conditions. The summer daytime high air temperature averages in the 80s and in the 60s and 70s during the spring and fall. The water level fluctuates greatly, affecting the shoreline access and creating unmarked submerged water hazards. Call in advance for current water level conditions before planning a trip to this destination. As of January 2014 the lake's water level is 10%.
Average
Temp
Jan
Feb
Mar
Apr
May
Jun
Jul
Aug
Sep
Oct
Nov
Dec
High
66
68
73
76
79
84
90
91
88
81
73
67
Low
38
39
41
43
48
51
56
57
55
48
42
37
Terrain: Lake Sutherland is located in the Palomar Mountains, surrounded by Indian reservations and National Forest land, preserving the calm beauty of the desert.
The lake is encircled by colorful rolling foothills intermixed with oak and chaparral, set against a backdrop of grassy hillsides covered with wildflowers in the springtime. There is a picnic area with tables and barbecues overlooking the lake that provides a perfect setting to relax and have a bite to eat after a pleasant paddle.