Lake Tahoe - Baldwin Beach, Emerald Bay & Meeks Bay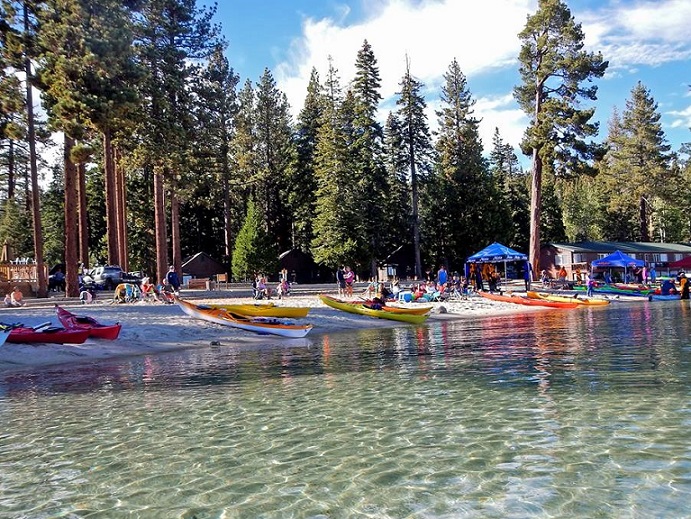 Meeks Bay Lake Tahoe Photo Credit Jim Snyder
Lake Tahoe Kayak, Canoe, SUP & Kayak Fishing Information
One of the most pleasurable ways to experience boat-in camping is at Emerald Bay. Emerald Bay is one of the most picturesque boat-in campgrounds in all of California. It
features some of the most scenic shorelines in Lake Tahoe's entire seventy-two mile perimeter. Emerald Bay is surrounded by towering evergreens rimmed by a sandy beach. It is known for its deep blue waters and beautiful rock formations, where you will be sure to discover ample photographic opportunities
You can hand launch from Baldwin Beach and paddle north towards Eagle Point. You will pass Cascade Stables which boasts some of the nicest lakefront property in LakeTahoe. Once you re inside Emerald Bay, the water will be much more calm due to a 5 m.p.h boat speed limit. Be sure to take in Tahoe's only island, Fannett Island, which still sports the remains of an old "tea house" built by the late owner of Vikingsholm. Vickingsholm is the old stone "castle" built around the turn of the century.
The boat-in campground is located on the north side of Emerald Bay, one-half mile east of Fannette Island, at the site of the old Emerald Bay Resort. Fannette Island is located in the bay on the west shore of Lake Tahoe, on the north end of Emerald Bay State Park. It can only be accessed by boat. There is no road access to the campground.
The 22 boat-in campsites with restrooms and water lie nestled among the soaring conifers alongside the shore. The solitary dock jutting out from of the shoreline is the only thing that divulges the campground's whereabouts. With exceptional kayak fishing, awe-inspiring scenery, and ideal photographic opportunities, Emerald Bay boat-in camping has something to satisfy everyone. It can provide some of the finest boat-in camping experiences you will ever encounter in Northern California. It's a perfect choice for your next paddling excursion.
You can also launch from D.L. Bliss State Park. The park is located 17 miles south of Tahoe City on Highway 89, a couple of miles north of Emerald Bay.
Baldwin Beach, Meeks and Emerald Bay feature some of the most gorgeous shorelines in all of Lake Tahoe's seventy-two miles of shoreline. Emerald Bay may be one of the most photographed areas in Northern California from the lookout "Inspiration Point" along Highway 89. The bay is surrounded by towering conifers rimmed by a sandy beach. Fannette Island located in Emerald Bay, is the only island on Lake Tahoe.
Average
Temp
Jan
Feb
Mar
Apr
May
Jun
Jul
Aug
Sep
Oct
Nov
Dec
High

41

42

46

53
61
70
79
79
79
62
49
42
Low
15
17

22

26
32
37
40
38
33
26
20
14
Open: Lake Tahoe is closed from late September to May due to heavy snowfall.
Fees: There fees for day use, parking, pets, and to camp.
Lake Facilities: There are boat rentals, eighteen boat launches, fourteen marinas, swimming, fishing, hiking and bicycling trails. All types of boating are allowed. Pets are not allowed on the beaches.