Lake Valley Reservoir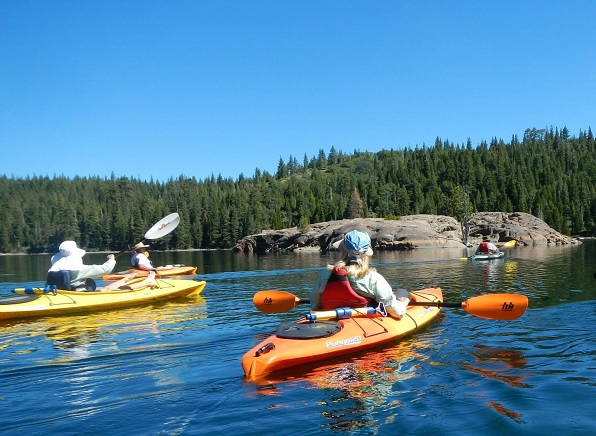 Photo Credit Gary Hobgood
Lake Valley Reservoir Kayak, Canoe, SUP & Kayak Fishing Information
Lake Valley Reservoir's calm water and peaceful atmosphere offer a premium paddling experience amid a towering forest and boulder-lined shoreline. The refreshing cool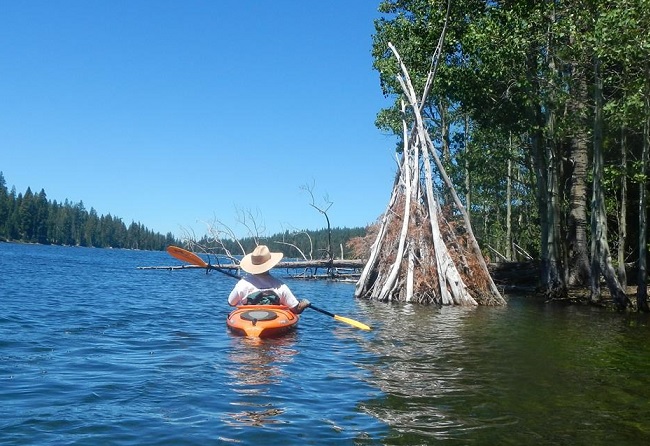 mountain air awakens your senses and provides an invigorating paddle with impressive sights throughout its eight miles of shoreline. The restriction of motorized boats and the reservoir's remoteness provides a tranquil paddle. The boat traffic during the weekends in the summer rarely exceeds fifteen boats, which consists of sailboats, windsurf boards, and fishing boats with electric motors.
The rutted gravel access road and parking lot are not suitable for motor homes or vehicles pulling trailers and can be treacherous for any vehicle after a recent rain. The only other drawback to this pretty reservoir is the afternoon winds, which can come on without any warning and ruin a perfect paddling excursion.
The campground is located a short distance from the reservoir on the opposite side of the launch area. The thirty-five tent and RV campsites are on a first-come, first-served basis, but good luck getting your RV here.
A canopy of conifers hugging the rocky shoreline provides an abundance of shady pullout access locations. Paddlers can explore the numerous private inlets and two small islands interspersed throughout the reservoir. At daybreak, the colorful vegetation provides mirror-like reflections on the water's surface. NOTE: Due to Lake Valley Reservoir's remote location, I would strongly advise paddling this reservoir with a companion.
Kayak angling is excellent at Lake Valley Reservoir. The reservoir is not too big or too small to paddle, but keep in mind the wind can get nasty here by mid morning. Bullhead catfish are the dominate fish in the reservoir. 4,000 rainbow trout and 20,000 fingerlings are planted annually. Fishing in the early spring provides the best action for rainbows in the 12"-17" range.
Average
Temp
Jan
Feb
Mar
Apr
May
Jun
Jul
Aug
Sep
Oct
Nov
Dec
High
40

42

45

52
61
71
79
79
72
62
47
40
Low
14
17

21

25
31
37
41
41
45
28
21
15
Open: The lake and campground are open daily from about June to mid-November, weather permitting. The boat speed limit is 10 m.p.h.
Fees: There is a fee to camp and for pets.
L
ake Facilities: The facilities include fishing, sailing, hiking, swimming, a boat launch. Jet and waterskiing are not permitted. Pets are allowed.