Lake del Valle
Photo Credit Kim Granfield
Lake del Valle Kayak, Canoe, SUP & Kayak Fishing Information
Lake Del Valle's rich raw beauty will dazzle you. The surrounding oak-covered foothills, colorful vegetation along the shoreline and the lake's 10 m.p.h. boat speed limit make this a delightful lake to paddle. This lake features pristine paddling and cam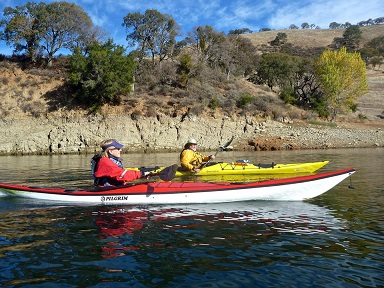 ping opportunities, miles of hiking trails to explore, and shaded family campsites. Make your reservations well in advance if you plan to camp here during the summertime. Camping reservations are taken up to twelve weeks in advance.
The lake is a perfect destination for paddling. Kayaking and canoeing are much enjoyed activities on the lake's clear waters. Slow-paced motor boating is allowed, but is restricted to a 10 m.p.h. speed limit on the entire lake.
Lake Del Valle is stocked regularly with rainbow trout and catfish. Trout plants begin from October through May by the Department of Fish and Game. The East Bay Regional Park District also stocks rainbow trout from the fall until spring, and plants catfish in the summertime.
Average
Temp
Jan
Feb
Mar
Apr
May
Jun
Jul
Aug
Sep
Oct
Nov
Dec
High
57
62
65
71
77
84
89
89
86
78
85
57
Low
37
40
42
44
48
53
55
55
53
48
42
37
Open: Lake Del Valle is open daily from all year. Boating is allowed daily one-half hour before sunrise to sunset. Day use is allowed from 8:00 a.m. to 10:00 p.m. The boat speed limit is 10 m.p.h. To pass the quagga mussel inspection, kayaks and gear must be clean and dry. Boats that fail inspection will not be permitted to launch and must wait five days before returning.
Watercraft that are required to undergo inspections include boats, kayaks, canoes, sailboats, inflatable craft, and any form of floating board. Inspections are required at the following locations. Inspections prevent the introduction of invasive mussels into local lakes and reservoirs. The inspection includes a vessel history survey and a visual inspection. The survey identifies watercraft have been in an invasive mussel-infested water body within the last 30 days.
Fees: There are fees to launch, to park, to camp, for an inspection and for pets.
Lake Facilities: Del Valle offers two swimming beaches. Year-round swimming is allowed,
but only north of the boat ramp and at the swimmer's own risk. The Rocky Ridge Visitor Center is open 10 a.m. through 5 p.m. Memorial Day weekend through Labor Day. There are picnic tables, a horse camp area with 4 small paddocks, fishing, camping, a boat launch, lake tours, hiking and horseback riding trail, boating, sailing, kayak and canoeing.