Los Banos Creek Reservoir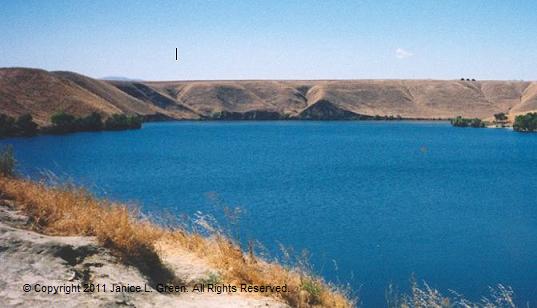 Los Banos Creek Reservoir Kayak, Canoe, SUP & Kayak Fishing Information
This reservoir is a great mystery to me. On the day I arrived at Los Banos Creek Reservoir the access road was flooded, so I was unable to paddle. But, from what I could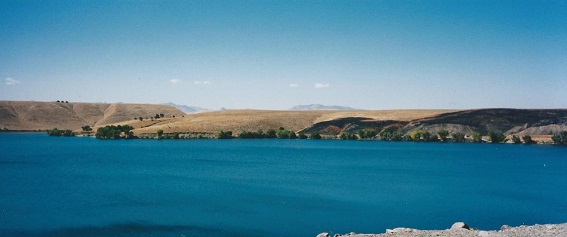 see, the reservoir looked like it had at the most, four miles of shoreline. It looked nothing like the shaped of the map nor as if it had twelve miles of shoreline, the information given to me by the park officials.
The rest of the reservoir must have been hidden around a bend I was unable to see from my view point. But as I said, it is a great mystery, and it will probably remain a mystery because I can't imagine ever going back to this reservoir
due to is lack of scenery, soaring temperatures, and lack of shade. Los Banos Creek Reservoir would make an ideal spot for windsurfers and for paddlers who enjoy barren lakes with minimal boat traffic. Boaters should also be aware of swimmers near the boat ramp and the campground areas.
Los Banos Creek Reservoir is known in the area for its' excellent fishing. Stocking by the Department of Fish and Game keeps the reservoir well supplied with trout in the cooler months. 14,000 rainbow trout in the 10 to 12 inch range are planted per year. But the main attraction Los Banos Reservoir is bass. Other species of fish caught here include catfish, crappie and bluegill. Boats can be beached overnight, although boating is prohibited after sunset.
Average
Temp
Jan
Feb
Mar
Apr
May
Jun
Jul
Aug
Sep
Oct
Nov
Dec
High
55
62
67
74
82
89
95
94
89
80
65
55
Low
37
41
44
47
53
58
62
61
57
51
41
35
Open: The reservoir is open seven days a week year-round for kayaking, one-half hour before sunrise to sunset. A 5 mph speed limit is in effect on the entire Los Banos Creek Reservoir year round. Los Banos Creek is subject to winter/road closures because of water release from the reservoir. Los Banos Creek is subject to winter and/or road closures because of water release from the reservoir.
Fees: There are day use, launch, pet and camping fees.
La
ke Facilities: There's a boat launch. Swimming, fishing, sailing, and windsurfing are allowed, but jet and waterskiing are not permitted. Pets must be leashed at all times. Limited parking exists and the park may close once the sites are occupied. Boaters are allowed to beach their boat. Boating is prohibited after sunset.