Lower Bear River Reservoir
Photo Credit Cheryl Wood
Mother Nature seems to have engaged her green thumb with great creativity at Lower Bear River Reservoir, painting the scenery with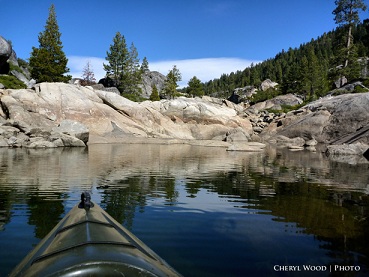 picturesque mountains dramatically etched between towering pines and massive boulders.
Take a leisurely paddle around the reservoir, and relish in the picturesque shores. As you paddle, keep your eyes peeled for the abundant wildlife in the surrounding forest. Select a comfortable campsite, roast up some marshmallows and watch the day fade away over the mountains, knowing that new paddling adventures await you each morning.
Resting at an elevation of 5,850 feet, the reservoir consists of two separate bodies of water. Located just above Lower Bear River Reservoir, separated by a dam, lies the smaller Bear River Reservoir, often referred to as "Upper Bear River Reservoir or Upper Reservoir.
To kayak Upper Bear River Reservoir, drive out the dirt road toward the upper reservoir and then portage your kayak the final mile down to the lake's edge. The trail drops 200 feet. The upper lake is about a mile long and covers 166 surface acres.
If you want additional information about this destination you can find it in this paddler's guide. Here you will find details such as the address, telephone number (if available) of the lake and campground, the directions, launch accesses, miles of shoreline, surface acres, terrain description, weather conditions, the lake and campground facilities, and a map with the location of the launches, marinas, and campground along with additional details about this featured destination.