Lower Sardine Lake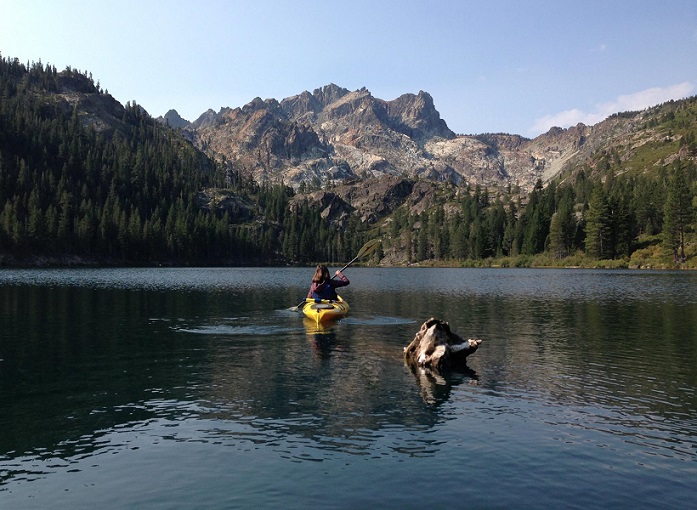 Photo Credit Gary Hobgood
Lower Sardine Lake Kayak, Canoe, SUP & Kayak Fishing Information
Dramatic mountain peaks tower above Lower Sardine Lake, a small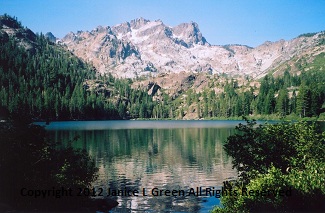 tranquil mountain lake located at 6218' feet elevation. Its breathtaking shoreline is encompassed by an alpine wonderland which provides a short but pleasant one-mile paddle. The lake is located an area renowned for paddling, kayak fishing, and hiking opportunities.
Wildflowers, scenic beauty soaring eagles otter and a variety of other wildlife are just a few of the reasons why Lower Sardine Lake is a perfect paddling getaway. Lower Sardine Lake has a quiet quality to it, yet it is the most crowded lake in the Lakes Basin Recreation Area.
The Ultimate Paddlers Guide to 264 Extraordinary Flat Water Destinations in California. BUY HERE

Kayaking California's Flat Waters is the most beautiful and informative resource available for California paddling enthusiasts.
This destination is an ideal retreat for individuals who enjoy paddling numerous small lakes in a day or for those who enjoy paddling beautiful scenery for as far as the eyes can see. A small campground with closely spaced campsites is located within a short walking distance from the lake. Upper Sardine Lake is only accessible by portaging your boat.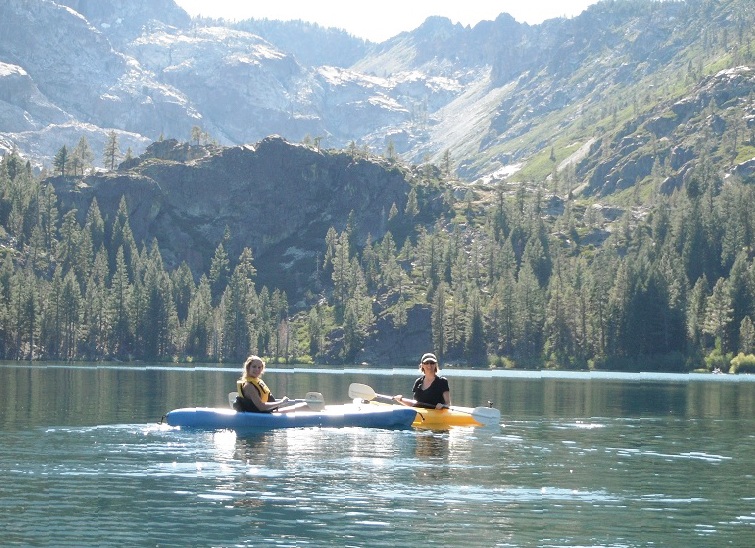 Photo Credit Marty Meading
Kayak Fishing: The Department of Fish and Game plants Lower Sardine Lake with 20,000 catchable rainbows and brook trout and with 10,000 mackinaw fingerlings each year. May is the best time of year to fish for the mackinaw right after the ice on the lake's water surface has melted. This lake is well-suited for novice kayak angler's due to its peaceful waters and small size. There are active bears in the areas so use caution when fishing from along the shore.
Average
Temp
Jan
Feb
Mar
Apr
May
Jun
Jul
Aug
Sep
Oct
Nov
Dec
High
48
50
54
60
69
78
85
85
80
69
54
46
Low
39
30
32
35
41
47
53
52
48
41
33
29
Open: Lower Sardine Lake campground is open from early June to mid-October depending on the weather and level of snowfall. The lake remains open all year, weather permitting, though the lake's water surface freezes over during cold winters.
Fees: There isn't any fee for day use or to launch, but here is a fee to camp.
L
ake Facilities: There is a small marina, a boat launch, boat rentals, fishing, hiking and horseback riding trails. Swimming is not allowed in Lower Sardine Lake as it is designated a premium fishing lake by the County of Sierra. There is a 5MPH speed limit on the lake.