Medicine Lake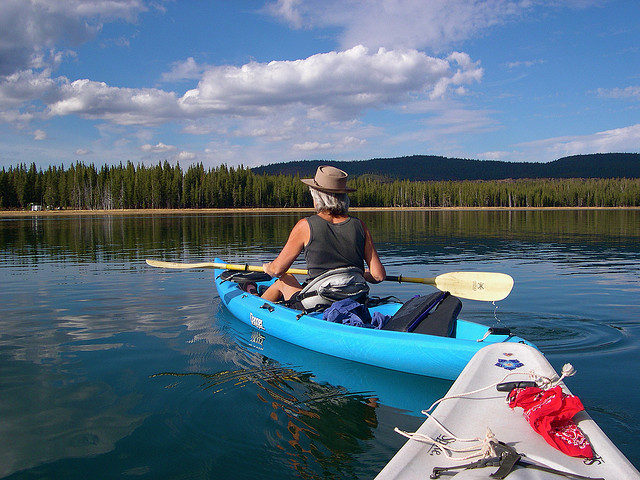 Photo by Margo & Michael McCullough
Medicine Lake Kayak, Canoe, SUP & Kayak Fishing Information
Paddle to the middle of the lake, take in a deep breath of clean
mountain air, as you watch the sky turn amber as the sun sets among the background scenery. There are still places in California that are virtually untouched by human influence.
Photo Credit Scott Shaw
Medicine Lake is considered one of the most gorgeous lakes in California. It is located far off the beaten path, but the long drive is worth every bump when you catch that first breath-taking glance of the lake sparkling against a backdrop of thick woods. It's deep blue in color and doesn't have any water coming in or out of the lake except for rainfall and snowmelt. Once the center of a volcano, this 640 acre lake is said to be at least 150 feet deep in places.
The lake lies within walking distance of the campsites. There is camping in four national forest campgrounds located along the northeast side of the lake. All of the campgrounds offer swimming, motorized boating or kayaking and canoeing. Water-skiing is allowed on the lake during specified hours.
Medicine Lake is located approximately fifty miles northeast of McCloud off of Highway 89 in the beautiful Modoc National Forest at an elevation of 6,700 feet. The lake is exceptionally clean and healthy for the stocked trout population.
Medicine Lake holds a good number of rainbow and brook trout. Largemouth bass fishing is slow when the water temperature is at 50 degrees, but Crappie fishing is sometimes at its best with the water temperature down this low. Although remote, the lake is very popular for fishing holding a good number of rainbow and brook trout. Fishermen will find a variety of fish including rainbow trout and brown trout here. Whether you're spinning, fly fishing or bait casting your chances of getting a bite here are good. So grab your favorite fly fishing rod and reel, and head out to Medicine Lake.

Average
Temp
Jan
Feb
Mar
Apr
May
Jun
Jul
Aug
Sep
Oct
Nov
Dec
High
47
50
54
61
70
79
87
87
81
70
54
47
Low
24
27
29
33
36
35
49
47
44
35
29
25
Open: The lake and campgrounds usually open around July 1st to mid-September weather permitting.
Fees: There is a fee to camp.
Lake Facilities: Medicine Lake offers excellent recreational opportunities for hiking, biking, camping, picnicking, hunting, horseback riding trails, and fishing. All boating is
allowed including water and jet skiing and swimming. There is one improved and two unimproved launch ramps located around the lake. Two short trails start near the campgrounds, including the .4-mile Medicine Lake Glass Flow Trail and the .8-mile Little Medicine Lake Trail.