Mission Bay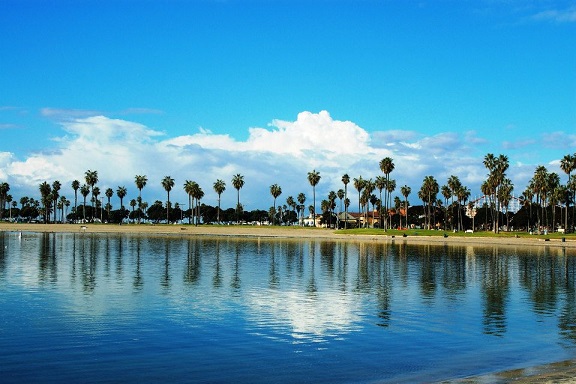 P
hoto Credit GI Brannock
Mission Bay Kayak, Canoe, SUP & Kayak Fishing Information
The vast, blue waters of Mission Bay make for an enjoyable kayaking experience. One of the highlights includes Sea World located in the southeast quadrant of Mission Bay. Th
e park at Mission Bay is like an aquatic playground, with a network of waterways and inlets, which is why kayaking is the best way to explore Mission Bay.
The park is divided up into many different sections that each have notable features. The bay is home to many species of birds, fish and other animals and has a nature reserve at its northern end, near Crown Point.
If you plan on paddling the entire circumference of this rather large, wide, beautiful bay, pace yourself in case the wind picks up. Also, be sure to watch out for boat traffic when paddling across the main body of water to reach one of the islands located in the bay.
This commercialized environment offers a wide variety of outdoor recreational activities and tourist attractions for the entire family. There are a number of rental facilities around the bay for bicycles and many marinas rent a full range of watercraft, including kayaks, jet skis, and windsurf boards.
If you want to catch hordes of fish, go to Mission Bay, but be sure to plan your arrival early. Fishing from your kayak is allowed throughout the entire bay, except in areas designated for swimming, waterskiing and personal watercraft use, (including launching and landing zones). The bay offers a variety of fishing species including perch, smelt, and occasionally you'll snag a halibut, barracuda and bonito inside of the bay.
Average
Temp
Jan
Feb
Mar
Apr
May
Jun
Jul
Aug
Sep
Oct
Nov
Dec
High
65
64
64
65
66
69
72
74
73
71
68
65
Low
45
47
48
41
51
56
63
64
61
56
49
45
Open: Mission Bay is open seven days a week year-round. Boating is allowed twenty-four hours a day, with running lights at night. There is a 5 m.p.h. boat speed limit in the northern bay and on the entire bay after sunset