Modesto Reservoir
Modesto Reservoir Kayak, Canoe, SUP & Kayak Fishing Information
Modesto Reservoir is encircled by a grassy pasture with tree tops protruding from the water's surface. The campground is situated beneath the only tree-shaded area on the l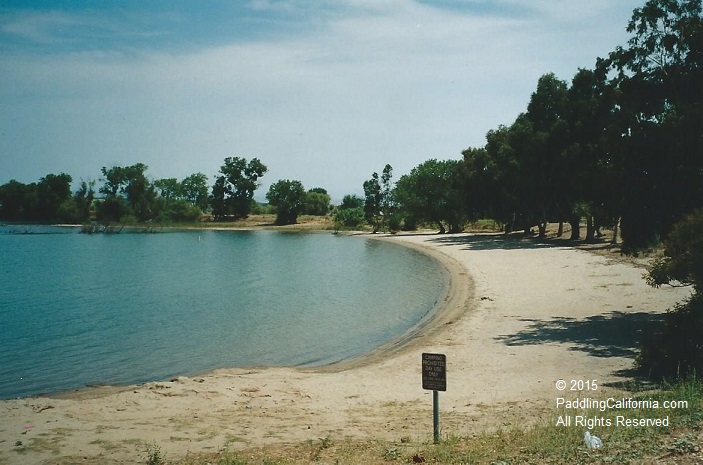 ake. Otherwise, the topography of the surrounding area is a flat grassland with an occasional oak tree doting the shoreline.
When I arrived at 8:00 a.m., the wind was already blowing aggressively, which was ideal for windsurfing, but unfortunately, not for paddling. 40 m.p.h. winds are not uncommon here.
All types of boating are allowed at Midesto Lake. Power boats pull water skiers, tubers and wakeboards while jet skis race the length of the lake. Paddling is most enjoyable in spring and fall, when the lake is still calm and the influx of summer visitors has yet to begin.
The Ultimate Paddlers Guide to 264 Extraordinary Flat Water Destinations in California. BUY HERE

Kayaking California's Flat Waters is the most beautiful and informative resource available for California paddling enthusiasts.
Modesto Reservoir offers an abundance of outdoor aquatic activities and is suitable for any level of paddler, providing novice paddlers stay within the restricted 5 m.p.h. zone in the southeastern section of the reservoir. The windsurfers, jet and water-skiers and powerboats can sometimes be a problem while paddling. Swimming is allowed in a designated area. All boats must travel in a counter-clockwise direction at all times.
Modesto Reservoir is an excellent warm water fishery with a nice population of large and smallmouth bass, channel catfish, bluegill, and crappie. Smallmouth bass are more predominant than largemouth bass but the majority of the bass caught here are smallmouth bass. The best time of year to hook rainbow trout is from November until mid-March during the period of time when the Department of Fish and Game plants the lake with 4,800 rainbow trout. Black crappie thrive here in the spring and summer around the abundance of submerged brush.
Average
Temp
Jan
Feb
Mar
Apr
May
Jun
Jul
Aug
Sep
Oct
Nov
Dec
High
54
61
66
73
81
88
93
92
87
78
64
53
Low
39
43
46
49
53
59
62
61
58
52
44
38
Open: The reservoir is open daily all year for boating from sunrise to sunset. There isn't any posted boat speed limit except in the restricted 5 m.p.h. zones. The powerboats were traveling entirely too fast.
Fees: Modesto Reservoir has day use, launch and camping fees.
Lake Facilities: There are two boat launches, a general store, a full-service marina, canoe rentals, fishing, boating, sailing, windsurfing, jet and waterskiing. Pets are not allowed. No swimming outside of the 5 m.p.h. zones or two hundred feet beyond the shoreline. Animals and fuel containers are not allowed at Modesto Reservoir.