Mountain Meadows Reservoir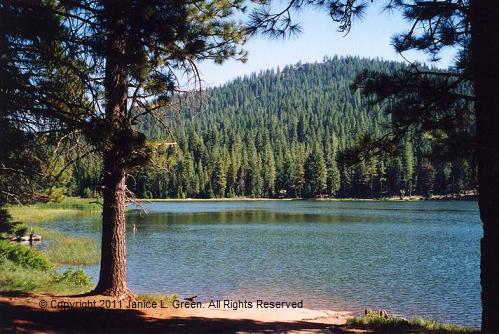 Mountain Meadows Reservoir Kayak, Canoe, SUP & Kayak Fishing Information
Area Map #201 Miles of Shoreline: 24 Reservoir Surface Acres: 7064 Elevation: 5041' Address: Indian Ole Road Westwood, CA 96137 Ph: 916 386-5164
Paddle Notes: Mountain Meadows Reservoir is like being on a treasure hunt. If you can find the reservoir, you have found the treasure. You notice that I said "if". Finding this reservoir in a maze of dirt roads through a towering conifer forest will almost guarantee you will become lost either on the way to the reservoir or on the way back out. If I didn't know for certain there was a reservoir of a relatively large size, on my first visit, I would have sworn Mountain Meadows Reservoir didn't exist.
It took me more than two hours zigzagging back and forth on dirt roads through the dense forest to find the reservoir. It may also be a problem for you to find this mysterious retreat because trees were being cleared to lay new roads when I was here. Unfortunately, none of the dirt roads were marked and it is extremely easy to lose your bearings, but once you find this pretty reservoir, you'll be glad you did.
The beautiful natural setting of Mountain Meadows Reservoir, with very few facilities provides a peaceful paddling experience. You are liable to be the only one there. Recreation use at Mountain Meadows Reservoir is primarily angling, canoeing, kayaking, and hunting.
The only public access point is a small boat ramp at the Indian Ole Dam, accessible via a County-maintained gravel road that crosses private property (located within the Dyer Mountain Resort Project area). The boat ramp was in poor condition when I was last here. (See top photo.)
Kayak Fishing: Unlike Lake Almanor,
which is known as the fishing capital of Northern California, and is planted yearly with over 200,000 fish per year, Mountain Meadows Reservoir is unheard of, except by the local anglers. The reservoir supports primarily warm water fish species, including largemouth bass, pan fish, and suckers.Mountain Meadows Reservoir has a decent amount of eagle lake, brook, and brown trout most likely because its so hard to find and it is rarely fished.
Wind & Weather Conditions: The reservoir's low water levels begin by late June, causing the number of miles of shoreline to diminish considerably. The reservoir is very shallow, so watch out for submerged water hazards protruding from the water's surface.
Summer daytime high air temperatures range from about 70 degrees during the day to the low 40s at night. In the months of July and August, increasing storm activity occurs with typical thunderstorms in the afternoon. Sudden downpours are common at this high-elevation reservoir and strong winds prevail year-long. The reservoir's water is almost always choppy by midday. NOTE: Always carry your rain gear and check the weather report prior to paddling at this destination.
Average
Temp
Jan
Feb
Mar
Apr
May
Jun
Jul
Aug
Sep
Oct
Nov
Dec
High
42
46
51
59
68
76
84
84
77
66
50
42
Low
20
23
26
29
35
42
46
44
39
32
26
21