O'Neil
Forebay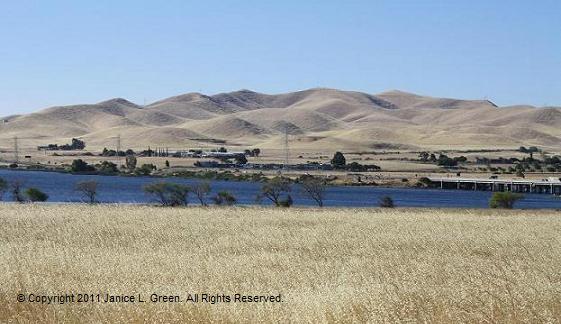 O'Neill Forebay Kayak, Canoe, SUP & Kayak Fishing Information
All boat traffic, (including kayaks) on the O'Neil Forebay need to travel in a counter clockwise direction around the buoys located in the center of the lake. Shallow areas exist along the entire southern shoreline, the Ca
tfish Flats area, and the Mud Flats area. Boats and dogs are prohibited at North Beach.
Anyone paddling a kayak will soon discover the power of wind. While paddling against the wind can be very backbreaking at O'Neil Forebay. On windy days, rigging a sail to your kayak will allow the wind to assist you to cover more distance than most people could paddle under their own physical power.
O'Neil Forebay is noted for boating, board sailing, camping, and picnicking, but it's kayak anglers who find the forebay the most inviting. Striped Bass draw the majority of anglers to O'Neil Forebay. Striped bass in the 30-pound class are not uncommon here. The forebay also offer largemouth bass, crappie, bluegill and even an occasional white sturgeon.
Average
Temp
Jan
Feb
Mar
Apr
May
Jun
Jul
Aug
Sep
Oct
Nov
Dec
High
55
62
67
74
82
89
95
94
89
80
85
55
Low
37
41
44
47
53
58
62
61
57
51
41
35
O'Neill Forebay is on San Luis Creek 2.5 miles downstream from San Luis Dam. The bay has 2,250 surface areas and 14 miles of shoreline. The facilities includes boating, kayaking, camping, picnic facilities, fishing, and hiking.
Open: O'Neil Forebay is open all year. Day use hours sunrise to 10 p.m. Boating is permitted from sunrise to sunset. All boats must be off of the water by sunset. Certain areas of O'Neil Forebay have speed restrictions.
Fees: There is a day use, launch and camping fee.
Lake Facilities: There are launch ramps at Medeiros and San Luis Creek area. The fo
rebay facilities consist of fishing, hiking, boating, picnic tables, and restrooms. All boating is permitted. There is no boat rentals, marina, or fuel. Five group picnic sites are scattered along the shoreline throughout the North Beach and South Beach day-use areas at San Luis Creek. Both day use areas have plenty of shade and grass. Each site has a large shade ramada, a large barbecue grill, and several cement tables. Wind Conditions Ph: 800 805-4805