Oceanside Harbor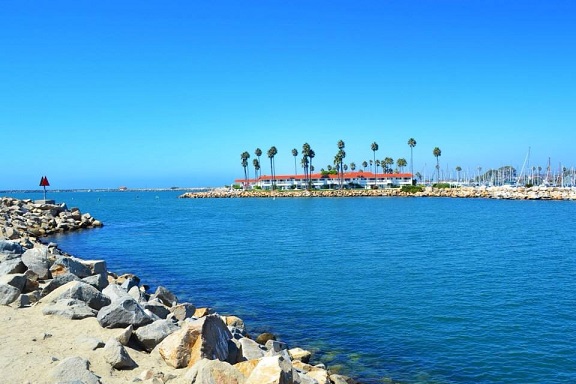 Photo Credit GL Brannock
Oceanside Harbor Kayak, Canoe, SUP & Kayak Fishing Information
Oceanside Harbor is the last stop before reaching San Diego Harbor and Mission Bay. With miles of sandy beaches, majestic ya
chts, and restaurants, Oceanside Harbor is the ultimate place for kayaking and spending the day on the water.
The harbor provides a nice respite for a bite to eat, and to use the restroom facilities, for kayakers paddling along the coastline. Kayak tours on weekend mornings and Saturday evenings as well as kayak rentals are available from OEX Oceanside.
There are plenty of additional activities around Oceanside Harbor to engage oneself in. Kayak fishing, SUP paddling, and sailing are available out of the harbor. Oceanside Harbor also has plenty of opportunity for bike riding, walking and dining.
Oceanside Harbor is located in Southern California. Kayak anglers will find a variety of fish including white bass, panfish, California halibut and smelt here. Your chances of getting a bite here are good. So grab your favorite fishing rod and reel, and head out to Oceanside Harbor.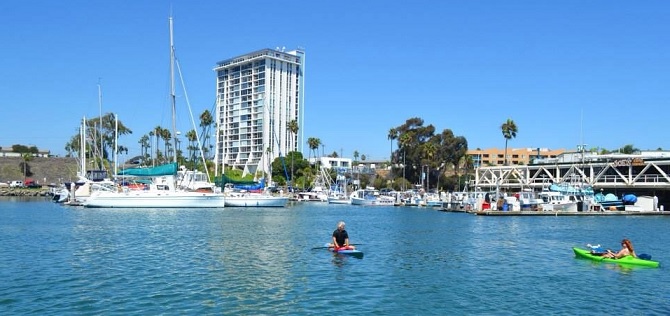 Average
Temp
Jan
Feb
Mar
Apr
May
Jun
Jul
Aug
Sep
Oct
Nov
Dec
High
54
61
66
73
81
88
93
92
87
78
84
53
Low
39
43
46
49
53
59
62
61
58
52
44
38
Open: The Oceanside Harbor is open daily for boating all year, twenty-four hours a day, with running lights at night. There is a 5 m.p.h. boat speed limit on the entire bay.
Fees: There is no fee to use the launch or for parking boat trailers in parking lot 1, east of the railroad tracks. Pay parking lot fees in the launch area are $5.00 from 4 a.m. to 8
p.m, $10.00 from 8 p.m. to 8 a.m., a total of $15.00 per day. A boat wash area is available free of charge.