Pardee Reservoir

Photo Credit Jim Snyder
Pardee Reservoir Kayak, Canoe, SUP & Kayak Fishing Information
Although there's only one boat launch, there are several options as to how you can go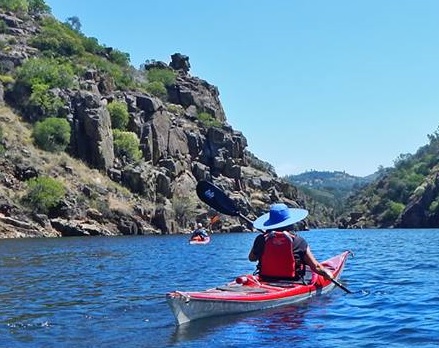 about paddling Pardee Reservoir; you can opt to paddle the total distance around Pardee Reservoir, which takes about eight hours; you can omit the southern arm and paddle the northern and eastern arms, which is still about a good five-hour paddle if you paddle the entire length of each arm; or you can paddle back and fourth the northwestern shoreline and hope you don't get cited for paddling against the flow of traffic. The disadvantage of this reservoir is they don't allow body contact with the water. On the upside, it cuts down on the large amount of boat traffic and noise.
Pardee Reservoir has a wide variety of fish species including rainbow and brown trout, kokanee salmon, catfish, bluegill, and bass. During the spring trout and kokanee provide the best fishing action, and then once summer arrives the bass start biting. The reservoir is planted yearly with 19,000 rainbow trout in the 10 to 12 inch class, and 35,000 fingerling-sized kokanee salmon.
Average
Temp
Jan
Feb
Mar
Apr
May
Jun
Jul
Aug
Sep
Oct
Nov
Dec
High
58
63
66
72
81
90
97
96
91
81
66
68
Low
34
37
39
42
47
52
56
54
52
46
39
34
Open: Pardee Reservoir is open daily for boating the 1st of February to the last Sunday in October from sunrise to sunset. The boat speed limit is 25 m.p.h. except in the restricted 5 m.p.h. zones and 5 m.p.h. within two-hundred feet from any shoreline.
Fees: There are day use, launch, camping and pet fees at Pardee Reservoir.
Lake Facilities: The facilities include a full-service marina, boat rentals, a swimming pool, a boat launch, gasoline, a restaurant, grocery store, snack bar, bike trails, fishing, boating, hiking and bicycling trails. Swimming, jet and waterskiing, wading, and similar body contact activities are prohibited and are strictly enforced. The minimum boat length is ten feet. Pets are allowed.
Pardee Reservoir prohibits body-water contact. Hence, your kayaking and fishing experience will not be disturbed by water skiers, jet skis, or lake swimmers. Fishing, boating, camping, picnicking and enjoying the swimming pools are the primary recreational activities. .
Pardee Reservoir offers a wide range of recreational opportunities on both land and water. Pardee Lake Recreation offers includes: fishing, boating, hiking, picnicking, boat r
entals, boat launch ramp, a fish cleaning station, developed overnight campground, 2 swimming pools, RV sites with full hook-ups, laundry, hot showers, WiFi, flush toiletsrestrooms, coffee shop, store, a gas station, and a full service marina.