Pineflat Lake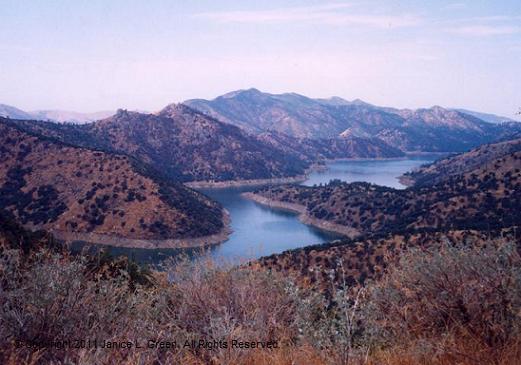 Pineflat Lake Kayak, Canoe, SUP & Kayak Fishing Information
Pineflat Lake is ideal for long distance paddling with a companion over a several day period while camping overnight at one of the campgrounds situated around the lake.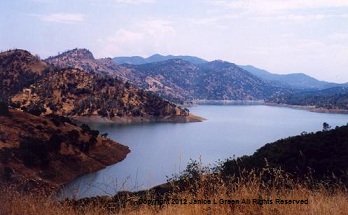 Boat-in camping is allowed but only for boats you can sleep on, which rules out kayaks and canoes. Being a solo paddler I prefer paddling the long, narrow and winding "tail" end of the lake where the Kings River flows into Pineflat Lake.
Fluctuating water levels drastically change the topographical appearance of the shoreline from month to month, especially during the late summer. There are many coves and inlets to explore on the tail end of Pineflat Lake.
Pine Flat Lake has a healthy supply of spotted, large and smallmouth bass, crappie, catfish, bluegill, and trout. The Department of Fish and Game plants 60,000 rainbow trout in the 10 to 12 inch class in the winter and early spring.
Pine Flat Lake produces a high catch rate for bass from November right through the spawn. The crappie season begins to pick up by late February, and with bluegill soon afterwards. In the springtime, trout fishing can be a little tougher. By late spring through summer, anglers will have to go deep to find the trout. By fall trout fishing slows down.
Average
Temp
Jan
Feb
Mar
Apr
May
Jun
Jul
Aug
Sep
Oct
Nov
Dec
High
55
62
62
76
85
93
99
98
92
81
66
56
Low
37
40
43
46
52
58
61
61
57
49
41
36
Open: Pineflat Lake is open for boating seven days a week all year from sunrise to sun set. The boat speed limit is 50 m.p.h. except in the 5 m.p.h. zones.
Fees: There are day use, launch, camping and pet fees.
Lake Facilities: The facilities consist of swimming, power boating, fishing, jet and waterskiing, sailing, windsurfing, hiking trails, six overnight mooring areas, two marinas, three boat launches, and a general store. Leashed pets are allowed.