Prosser Creek Reservoir
Prosser Creek Reservoir Kayak, Canoe, SUP & Kayak Fishing Information
There are excellent paddling opportunities around the eleven miles of shore line at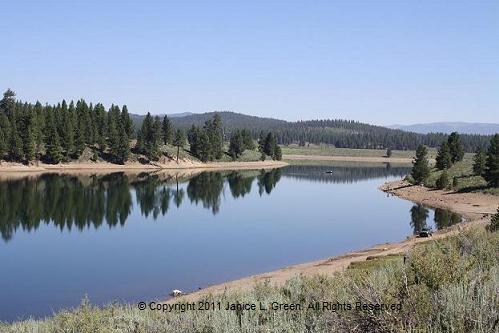 Prosser Creek Reservoir, located three miles northeast of the town of Truckee. The 10 m.p.h. boat speed limit and restriction of jet and waterskiing provides a peaceful and pleasurable eleven mile paddle around the reservoir's perimeter when the water level is at full capacity.
There are two main arms with a boat launch access located in the middle of the reservoir, which allows novice paddlers to paddle the reservoir in two sections. Also, the narrow distance between the shorelines provides easy crossover access at any point.
There wasn't a single soul on the reservoir both times I paddled here. The reservoir was void of all watercraft and park visitor's most likely due to the extremely low water level.
Prosser Creek Reservoir offers plentiful trout fishing, but many of them are puny. The species of fish here include 100,000 fingerling rainbows, and 28,000 rainbows in the 10 to 12 inch class that are planted yearly, plus there are a few smallmouth bass and brown trout.
Prosser Creek Reservoir is not as congested with watercraft as Boca and Stampede Reservoirs due to its 10 m.p.h. boat speed limit, so it does offer fairly good fishing opportunities in that regard, even when the lake's water level is drawn down. The inlets provide good fishing spots and anglers have had success trolling from your kayak for trout using flasher and worm combinations.
Average
Temp
Jan
Feb
Mar
Apr
May
Jun
Jul
Aug
Sep
Oct
Nov
Dec
High
40
42
45
52
61
71
79
79
72
62
47
40
Low
14
17
21
25
31
37
41
41
45
28
21
15
Open: The reservoir and campgrounds are open daily from June through October for boating and camping. The reservoir's boat speed limit is 10 m.p.h.
Fees: There is a fee to camp.
Reservoir Facilities: The facilities include fishing, windsurfing, boating, sailing, hiking, a boat launch and vault toilets. Jet and waterskiing are not allowed. Swimming is allowed along the shoreline.