Pyramid Lake
Pyramid Lake Kayak, Canoe, SUP & Kayak Fishing Information
This destination is infested with quagga mussels. Cllick here for proper ceaning.
This good-size, rustic lake is located in the rugged foothills above Santa Clarita Valley, in the Angeles National Forest, about 60 miles northwest of Los Angeles.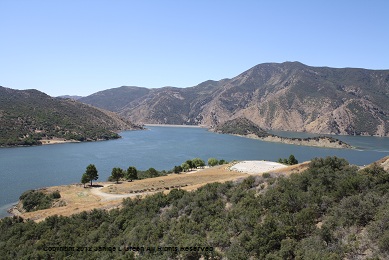 Novice paddlers may only want to paddle the first four coves on the eastern side of the lake, especially if the winds have begun to blow by the time you reach the Tin Cup picnic area.
On Saturdays and Sundays at the Emigrant Landing launch area, there is usually a long waiting line. Only 150 vehicles are allowed at a time.
Vasquero, the second boat launch area located off of the Vista del Lago Road exit, is open Memorial Day weekend to Labor Day. Either way you will need to arrive by 6:00 a.m. or 7:00 a.m. if you intend to paddle the entire lake and avoid strong gusty winds.
Another advantage of paddling early is you can often catch a
glimpse of deer grazing in Priest and Glory Hole Coves. Also, you'll paddle on flat water before the boat traffic and strong gusty winds begin.
Fishing is allowed any where at Pyramid Lake. Courtesy docks and a ramp leading from Parking Lot A to accessible fishing sites are available. Kayak anglers can hook striped, large, and smallmouth bass, rainbow trout, crappie and bluegill. Pyramid Lake has a reputation for big striped bass up to 40 pounds. It is also a good kayak angling destination for rainbow trout, large and smallmouth bass, catfish, crappie and bluegill.
Average
Temp
Jan
Feb
Mar
Apr
May
Jun
Jul
Aug
Sep
Oct
Nov
Dec
High
54
58
61
67
76
84
91
91
86
75
63
55
Low
36
39
41
44
51
60
60
66
61
52
42
37
Open: Pyramid Lake is open daily all year from sunrise to sunset for boating. Emigrant Landing is open daily from 7:00 am to 7 pm. The last boat launch is at 4 pm. Boats must be on your trailer by 6 pm. The gates close at 7 pm. All boats must be inspected before they will be allowed to launch. except kayaks and canoes.
A maximum number of boats is set daily on Pyramid Lake. Get there early on weekends. Once the limit is set, boats and jet skis will only be allowed to enter Emigrants Landing Boat Launch area as boats or skiers leave the lake. Boating speed limits differ in parts of the lake. Canoes, rubber rafts and rowboats are often seen in the canyons where power boats are restricted to low speeds. Higher speeds for waterskiing are allowed on the main body of the lake. 35 m.p.h. is the maximum boat speed limit, though I have often seen boats travel a lot faster.
Fees: Pyramid Lake has day use, pet and launch fees.
Lake Facilities: Visitors enjoy all the lake has to offer, from boating, water and jet skiing,
wakeboarding, and fishing. There are boat rentals, gasoline, water, flush and pit toilets, a snack bar, two boat launches, a marina, fishing, jet and waterskiing, swimming, windsurfing, sailing, and hiking trails. A large sandy swim beach attracts hours of play. Large trees and shelters provide cooling shade. Pets are allowed on a leash. The Vista Del Lago Visitor Center offers views of Pyramid Lake on its wraparound viewing platform. Vista del Lago Visitors Center Ph: 661 294-0219