Red Lake
Red Lake Kayak, Canoe, SUP & Kayak Fishing Information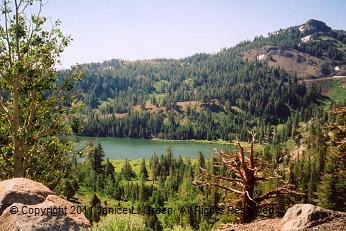 Unexpectedly beautiful serene scenery engulfs this small alpine lake located on the east side of the Carson Pass about three-and-a-half miles east of Woods Lake.
A special feature of this exquisite tiny lake located in a remote wilderness setting is that it is often deserted. The lake, approximately thirty surface acres and one-half mile of shoreline, does not allow motorized boats. There is a hand launch access area along the eastern shore near the small parking lot.
Red Lake is an uncrowded and has onlly a handful of primitive campsites towered over by gorgeous pines. The only drawback to Red Lake is there weren't any restroom facilities.
Red Lake is a small lake with only 30 water surface acres. Keep your eyes peeled for wildlife including deer, coyote, jackrabbit, quail, flicker, warblers, red-tailed hawk, golden eagle, golden-mantled ground squirrel, marmot, and beaver.
Trolling for trout provides good action at Red Lake, or your other best bet is to fly fish from along the shore right after the Department of Fish and Game stocks the lake. The species of fish here consist of brook, rainbow, and cutthroat trout, but you'll most likely land yourself a brook or rainbow trout, which 5,000 are planted yearly, along with 6000 rainbow trout.
Average
Temp
Jan
Feb
Mar
Apr
May
Jun
Jul
Aug
Sep
Oct
Nov
Dec
High
44
47
51
57
66
75
83
82
75
65
53
44
Low
18
20
24
28
34
40
44
43
37
25
22
17
Open: Red Lake is open daily for boating from about June to October. The season can be shortened at either end due to early or late snowfall. Motorized boats are prohibited.
Fees: There aren't any fees for day use, to launch or to camp.
Lake Facilities: The facilities include hand launch access, windsurfing, swimming, fishing and hiking. NOTE: Boats with motors are not allowed. Humboldt-Toiyabe National Forest Ph: 775 882-2766