Redinger Lake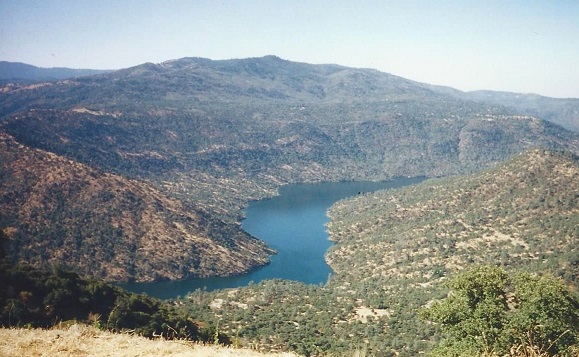 Redinger Lake Kayak, Canoe, SUP & Kayak Fishing Information
Meandering through the bottom of a remote canyon, this long and narrow shaped lake is located in an out-of-the-way and isolated territory on the San Joaquin River. The winding access road to the lake was in e
xtremely poor condition, and was not suitable for large motor homes or vehicles pulling trailers, (actually, any vehicle that doesn't have four-wheel drive), when I was last here.
The seclusion and solitude of this lake can be soothing to your soul. However, I don't recommend paddling either Kerckhoff Reservoir or Redinger Lake alone due to the remoteness of the area and the lack of people in the vicinity, in case an emergency should arise.
There is a paved boat launch and a small parking lot that has restrooms nearby. Other than that you'll most likely be on your own with not a soul in sight. Redinger Lake is a perfect location for only the more adventurous types. NOTE: Campfires are prohibited.
Redinger Lake provides kayak anglers with year-round fishing for striped bass, bluegill or catfish. Unfortunately, you're liable to come up empty handed because the lake is not stocked with any fish by any fishery or by the Department of Fish and Game.
Average
Temp
Jan
Feb
Mar
Apr
May
Jun
Jul
Aug
Sep
Oct
Nov
Dec
High
56
58
60
66
75
85
93
93
86
76
64
57
Low
31
33
35
38
33
51
57
57
52
44
36
31
Open: Redinger Lake is open daily all year, twenty-four hours a day, with running lights at night. The boat speed limit is 35 m.p.h. from sunrise to sunset and 5 m.p.h. at night.
Fees: There isn't any day use or launch fee, but there is a fee to camp.
Lake Facilities: The facilities consist of a boat launch and chemical toilets. Boating, fishing, (it is not a very good location for fishing), and swimming. Jet and waterskiing are allowed at Redinger Lake. The lake is too narrow for windsurfing and sailing. All boats must travel in a counter-clockwise direction. NOTE: Bring your own water.