Sacramento River - Brannan Island State Recreation Area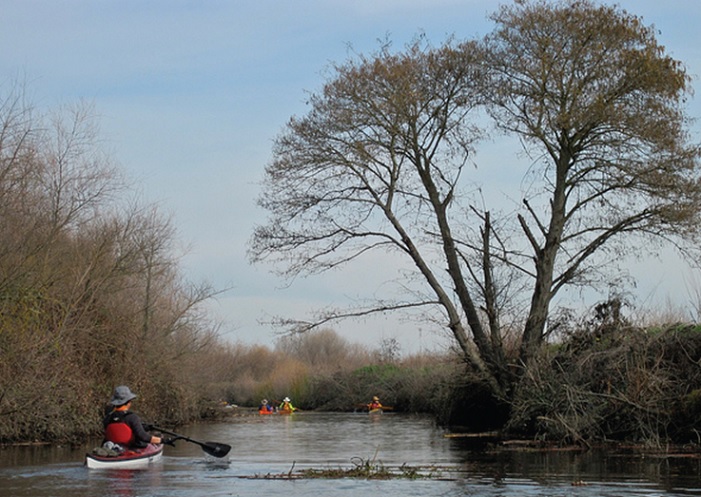 Photo Credit Lyrinda Snyderman
Sacramento River Kayak, Canoe, SUP & Kayak Fishing Information
CAUTION 4-23-2018 E. coli contamination at Tiscornia Beach and Discovery Park's Steelhead Creek were particularly abhorrent, according to results from the Central Valley Water Board. At times in February and March, E. coli levels were more than seven times the contamination threshold.
There are more than one thousand miles of intricate waterways to explore on the Sacramento River. This slow-moving river meanders throughout rolling grass-covered hi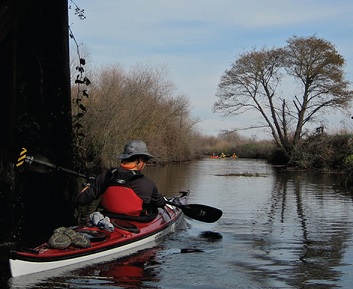 lls In the springtime, The lush green hillsides surrounding the Sacramento River in the spring, become dry and brown in the summer.
The Sacramento River begins in Northern California near Castle Craggs State Park. It is the longest river in the state of California. It flows south out of Lake Siskiyou for about 30 miles before mellowing out in Lake Shasta. After Lake Shasta, the Sacramento River slows down and picks up major tributaries on its way to the state capital of Sacramento.
Brannan Island State Recreation Area is northeast of San Francisco Bay. There are endless islands and marshes to explore with an abundance of wildlife habitats and superb opportunities for kayaking, canoeing, SUP, kayak fishing, and swimming.
The Sacramento is a major source of irrigation water for a diverse agricultural economy, The warm, calm water and air temperatures in the summer attracts millions of aquatic enthusiasts a year. Jet and waterskiing, sailing and windsurfing are just a few of the water activities popular at the river throughout most of the year.
Memorial Day Weekend 2014 May 24-26th: California 100. The 100-mile paddle race on the Sacramento River starts under the Sundial Bridge in Redding, CA and finishes near Chico, CA. The mild climate, sweeping vistas, and easy access points combine to make this a wonderful venue for paddle sport of all sorts, accommodating the experienced marathoner and the first timer as well.
Kayak Fishing: The river supports four runs of chinook salmon, including the endangered winter-run. More abundant species are the Pacific lamprey, steelhead and rainbow trout, striped bass, green sunfish, bluegill, largemouth and smallmouth bass, Sacramento sucker, shad, and various catfish, minnows, herrings and sturgeon.
Rainbow trout are in abundance at the Sacramento River but they can be finicky about what they will bite. If the water temperature is warm you may have better success trolling for trout than fishing with bait. During the fall is the best time of the year to catch Chinook salmon on the Sacramento River.
Average
Temp
Jan
Feb
Mar
Apr
May
Jun
Jul
Aug
Sep
Oct
Nov
Dec
High
57
60
63
69
76
85
92
91
87
77
62
56
Low
34
37
39
40
44
49
53
52
48
42
37
33
Open: Boating is allowed daily all year, twenty-four hours a day with running lights at night. Brannan Island State Park is open on Wednesday thru Sunday, from sunrise to sunset. Camping is not available on Sunday, Monday and Tuesday nights.
Fees: There are day use, parking, launch, and camping fees.
Lake Facilities: There is a visitors center, guided tours, a boat launch, boat-in campsites, swimming, windsurfing, power boating, jet and waterskiing, sailing, hiking trails and fishing. Pets are permitted on a leash. Day use areas include the Windy Cove windsurfing access, the group picnic area located at the Ramadas, and Seven Mile S
lough picnic area. The group picnic facility and Seven Mile Slough day use area close at sunset. Windy Cove closes at the hour posted at the entrance road to Windy Cove. In all of these day use areas possession and consumption of alcoholic beverages are prohibited. The shaded picnic structures have barbecues, pinic tables, water and trash receptacles. The closest restroom to the Ramadas is located north of the swim beach along Seven Mile Slough.