San Diego Harbor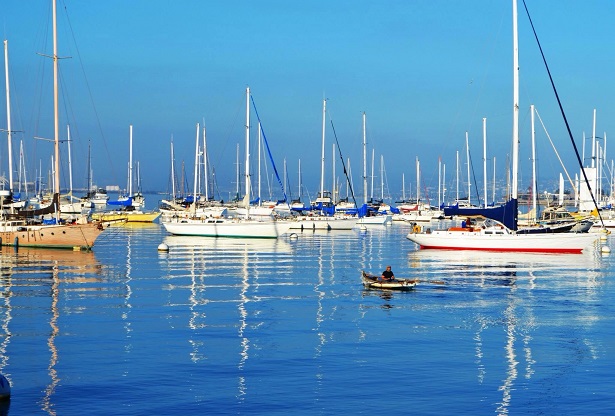 Photo Credit GI Brannock
An enjoyable way to explore San Diego Harbor is from a kayak. It's a great way to get up-close to California's diverse sea life. San Diego Harbor is a wonderful destination for the outdoor enthusiast.
The harbor is located about two-and-a-half hours south of Los Angeles. It is a perfect destination to watch a sunset on the water. Another fun thing to do is to kayak to Shelter Island during Humphrey's Concerts by the Bay where you can rest your kayak in the marina and listen to the performers.
Highlights include dramatic scenery, frolicking in gentle ocean surf, and abundant wildlife including sea lions, dolphins, and gentle leopard sharks! Sight-seeing, fishing, hiking, boating, bicycling, should be at the top of any visitor's to-do list. There is easy access to boat rentals, fishing supplies, restrooms, and great dining.
Kayak fishing is a popular activity in the San Diego Harbor. For avid kayak anglers a bountiful fishery awaits you. There are numerous coves and inlets providing good fishing opportunities to kayak angling enthusiast. Game fish, including spotted bass, halibut, turbot, guitarfish, croaker, perch, and bonefish to name a few, are plentifully in the harbor. Numerous boat launches are available along the shoreline.
Although there is no camping at the harbor itself, there are several campgrounds within a ten mile radius. Bicycling, walking, jogging and roller blading trails wind their way around the harbor. The harbor offers a diverse range of water sports. Satisfy your need for speed with jet and water skiing, or plough the water in a canoe or kayak. A mile long park and promenades spans the bay side length of Shelter Island. It features a public fishing pier, boat launching ramp and sweeping views of the harbor and San Diego skyline.
If you want additional information about this destination you can find it in this paddler's guide. Here you will find details such as the address, telephone number (if available) of the lake and campground, the directions, launch accesses, miles of shoreline, surface acres, terrain description, weather conditions, the lake and campground facilities, and a map with the location of the launches, marinas, and campground along with additional details about this featured destination.