San Joaquin River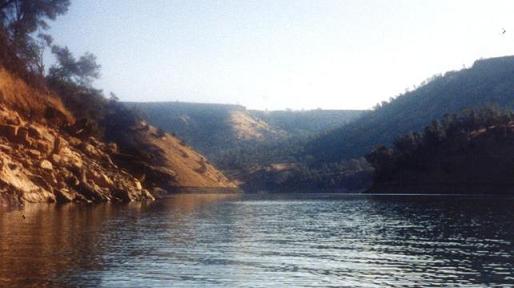 San Joaquin River Kayak, Canoe, SUP & Kayak Fishing Information
This section of the San Joaquin River refers to is the Big Bend Cove on Millerton Lake to about sixteen miles up the San Joaquin River to Squaw Leap. San Joaquin River lies protected from the wind by steep hillsides. Along the river are several boat-in campsites, that are ideal if you are paddling with a companion or if you happen to get caught in sudden wind conditions. However, if you begin your paddle at 6:00 a.m., there is a good chance you won't get caught in strong afternoon winds. There is a minimal amount of boat traffic on the river.
The San Joaquin River salmon run was considered to be one of the best in the country. Unfortunately, everything changed after the dam's completion. Over the years with the planting of the Florida strain largemouth bass, the population has steadily increased..
The river also used to have a nice population of smallmouth bass, but a number of years ago, one of the upper reservoirs was drained, which took a heavy toll on the smallmouth. If you want to catch a bass, you'll need to fish the headwaters where the San Joaquin flows into Millerton.
Average
Temp
Jan
Feb
Mar
Apr
May
Jun
Jul
Aug
Sep
Oct
Nov
Dec
High
55
61
65
73
84
92
99
97
91
81
65
55
Low
38
41
43
44
49
56
61
60
57
50
41
36
Open: To reach the San Joaquin River you can launch from Millerton Lake, which is open for boating seven days a week year-round from sunrise to 10:00 p.m. The boat speed limit on the San Joaquin River is 35 m.p.h., except in the 5 m.p.h. zones.
Fees: There are day use, launch, camping and pets fees.
Lake Facilities: There are six boat launches, a full-service marina, hiking, bicycling and horseback riding trails, fishing, power boating, windsurfing, sailing, jet and waterskiing.
USE CAUTION WHEN PADDLING ON A RIVER:
As fun and exciting as it may be to kayak on a river, don't forget that paddling on a river entails an amount of risk due to the elements of nature. Rivers have different behaviors throughout the year. River flows can be impacted by runoff from storms, snow melt and by the daily ebb and flow of the ocean tides. What once was flat water can quickly become Class I to Class III rapids after a recent storm, which is best left to paddlers who have the skills to maneuver around rocks, and strainers and who know how to read water.
The drought in California has also affected the water level on many rivers in California. Paddlers should stay up-to-date on the conditions that affect paddling a river, such as river height and discharge, tidal schedules, river flows and current weather activity. Call before departing for current water level conditions. When paddling on a river, always go with two people who are familiar with the river. Why two? In case something happens to one of them, you won't be left paddling down a river alone.